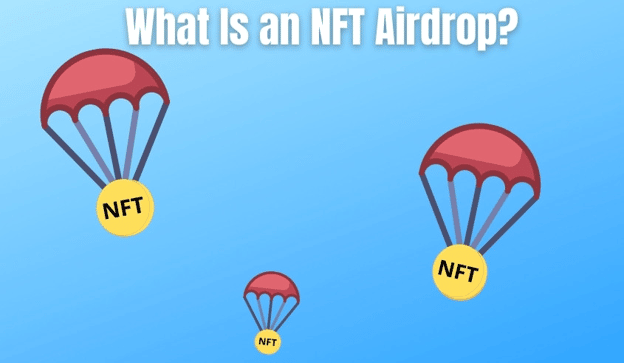 If you have been active in the NFT industry, you must have heard of an NFT airdrop. Airdrops can be of different types, but let's first get the airdrop NFT meaning.
An NFT airdrop refers to a distribution of NFTs sent to a web3 wallet for free. NFT airdrops are sent for promotion or as a reward for participating in an experience or for buying a digital asset. Airdrops help brands to draw attention or add additional value.
So, an airdrop is a reward or a gift. It can be in the form of tokens, cryptocurrency, or in this case, an NFT. Brands normally send airdrops to their customers for appreciation. It is also good for advertising.
NFT airdrop upcoming projects are very common as they help to draw attention to upcoming NFT projects or associated events. NFT owners can use NFT airdrops as a way of adding value to their NFT holders by gifting them with free products.
The following are the three types of NFT airdrops:
#1: Standard Airdrop
Once you do a simple task such as signing up for a newsletter, joining a whitelist, or sharing a social media post, you get a number of tokens. This is called a standard airdrop. You don't have to spend to receive such an airdrop, but only to complete a simple task and receive an airdrop as a reward.
See an airdrop as a coupon. A new restaurant in town may choose to give out appetizers for free. This will be of benefit to both the restaurant and the clients.
#2: Exclusive Airdrop
NFT project owners may decide to reward their loyal members with an NFT airdrop in the form of free tokens. However, for you to qualify for the exclusive token airdrop, you must have been a long-term user of the service or be a subscriber.
For example, a grocery store may choose to reward its loyal members with exclusive airdrops. The airdrop can be in the form of loyalty points every time you shop in the store. The store will reward you for your continued support, and it will get a loyal or long-term customer.
A good example of an exclusive airdrop was the $LOOKS airdrop. Those who had traded at least 3 ETH on OpenSea were qualified to receive free tokens directly into their crypto wallets. One only needed to list their NFT on LooksRare NFT marketplace to receive the tokens. You could then trade the $LOOKS token for ETH or other cryptocurrencies. So, the incentive was to get free crypto after users listed their NFT on the marketplace.
#3: Community (NFT) Airdrop
There are many factors that can initiate the start of an NFT airdrop. You can get an NFT airdrop simply by keeping an NFT in your wallet. NFT airdrops could also be efforts to market a brand. An NFT airdrop can be expensive to the owner and very profitable to whoever receives it.
The Bored Ape Mutant Serum is another example of an NFT airdrop. The NFT airdrop was meant for the Bored Ape Yacht Club NFTs holders.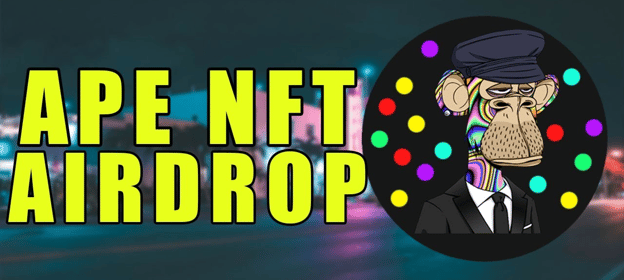 The Mutant Sereums were free to the holders, but they fetched ridiculous prices on secondary marketplaces, above 3 ETH, which is equivalent to thousands of dollars.
The ape NFT airdrop Binance is also another example of an NFT airdrop.
How to get NFT Airdrop
"How to get NFT Airdrop" is frequently typed on the Google search bar.
To get an NFT airdrop, you must be a holder of the specific NFT running the airdrop. Some NFT owners may require you to complete a particular task so as to get their NFT airdrop. The task could be signing for an account with a marketplace, listing your NFT on a marketplace, and more. You may also be lucky and get an NFT airdrop without doing anything.
Generally, whenever an NFT brand invites the community to earn their NFT airdrop, they require the members to do something simple such as creating content about the brand, sharing social media posts, or inviting more members to the community.
NFT airdrops are important for the NFT industry because they promote NFT brands. They also help NFT brands to provide more utility and value to their clients and help blockchains to start new without the need to lose the trust they have established with their customers. That is why they are applied in other sectors other than NFTs.
With an NFT airdrop, an NFT brand can establish new relationships with new customers, strengthen the current relationships, and showcase their NFT easily and in a less expensive way than using the traditional forms of marketing.
NFT airdrops are known as one of the ways to market an NFT project safely, but there are many NFT airdrop scams on the internet. Thus, always be cautious when approaching any NFT airdrop.