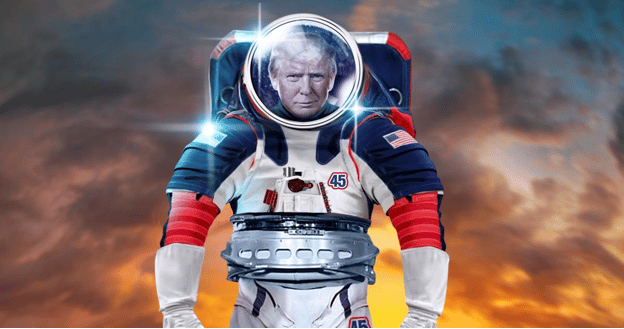 Donald Trump's NFT (Non-Fungible Token) collection dominated the crypto news late last week. This saw the price and the trading volume of the collection surge over the weekend. However, the two metrics have fallen sharply, indicating that the hype about Trump's NFTs has faded.
The Trump digital Trading Cards, which were minted on Polygon, an Ethereum scaling network, surged on Saturday, December 17, generating a trading volume of more than $3.5 million. This is according to CryptoSlam data. Trump's NFT selling price surged further on Sunday, with the NFTs being sold for an average of above $680 per piece, although the total volume for the day dropped to about $1.95 million.
On Monday, the day-over-day trading volume for the Trump Digital Trading Cards sunk by 57% to about $836,000 worth of ETH. The average sale price for the NFTs also fell to about $466. Today, the Trump Digital Trading Cards have a floor price of 0.18 ETH, or about $218.
The Trump Digital Trading Cards were launched on Thursday last week, and 44,000 of the pieces were sold for $99 each in the primary sale. The project creators kept the remaining 1,000 tokens as the total supply for the collection was 45,000.
Although the Trump Digital Trading Cards attracted a lot of criticism and mockery even from Trump's supporters, they were sold out within 24 hours and fueled the secondary market demand. The project has generated $8.7 million in secondary sales.
The momentum of the NFTs peaked over the weekend, with the cheapest NFT or the floor price reaching 0.84 ETH (or about $990) on Saturday. Three days later, the price floor of the Trump NFTs has fallen 74%. Currently, Trump Digital Trading Cards are ranked at position #12 on CryptoSlam in terms of sales volume over the last 24 hours. The collection has generated sales worth $392,034 over the same period. The sales volume has dropped by -22.10% over the last 24 hours. The Bored Ape Yacht Club (BAYC) NFTs are leading in terms of sales volume, after generating $6,013,987 worth of sales over the same period. The BAYC sales have surged by 106.1% over the last 24 hours.
Trump's NFT project has also been criticized for using stolen artwork in some of the cards. The 1,000 NFTs held by the creators also have a disproportionate amount of the "rare" NFTs, raising further criticism.
Make Money Today Trading NFTs
You can grow your crypto earnings by buying cheap NFTs and selling them for a profit. NFTCrypto.io has made this even easier for you through their NFT trading signal system. They find profitable flips in the NFT market and share the signal with you in real-time. Join NFT Signals now and become a successful NFT trader. The platform users have so far earned a total group profit of over $600M.