After news of a New York Grand Jury voting to indict former U.S. President Donald Trump on March 30, the floor price of Trump Digital Trading Cards jumped.
OpenSea data shows that the announcement spurred NFT traders into action, with the floor price of Trump's NFT collection jumping from o.46 ETH to as high as 0.6 ETH on the same day.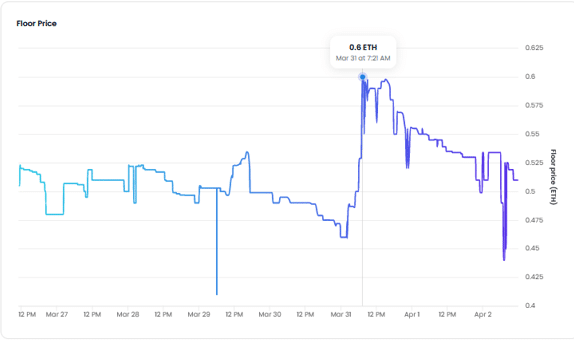 After the launch of the NFT project in December 2022, it offered exclusive one-on-one experiences to particular NFT traders, including private golf sessions, conversations, and dinner with Donald Trump.
The indictment news can potentially affect the ability of the president to deliver on the experiences.
On Monday, the floor price of Trump Digital Trading Cards had dropped to around 0.479 ETH, according to OpenSea. The price of the NFT collection is still above its initial mint price of $99 in December.
On Thursday, the New York Grand Jury voted to indict Trump after weeks of hearing evidence in the investigation regarding hush money paid to adult film actress Stormy Daniels before the 2016 U.S. election.
The indictment is historic as it makes Donald Trump the first former US president to be charged with a crime, although he has for long referred to the investigation as a political witch hunt by Manhattan DA Alvin Bragg. A CNN report indicates that Trump has over 30 charges in the indictment.
The Trump Digital Trading Cards was launched in December last year as a collection of 45,000 NFTs on the Polygon blockchain. Trump announced the launch of the NFT collection via Truth social, the social media platform he launched in 2021.
The collection features digital trading cards depicting Trump in various guises such as superhero, Nascar driver, and astronaut. Users could purchase the tokens via ETH or in fiat currency.
Trump's NFT project was initially criticized on Twitter, with some terming it a "scam." Others raised concerns over his questionable campaign fundraising efforts in 2020 and allegations of murky spending.
The hype surrounding Trump Digital Trading Cards has fluctuated from time to time, causing the price of the collection to also fluctuate. In some cases, the price of the collection has dropped, indicating that the hype is dying. In other cases, the price of the collection has surged, with daily sales rising by over 800% in some instances.
Buy and Sell NFTs for a Profit
You can grow your crypto earnings by buying cheap NFTs and selling them for a profit. NFTCrypto.io has made this even easier for you via their NFT trading signal system. They find profitable flips in the NFT market and share the signal with you in real-time. Join NFT Signals now and become a successful NFT trader. The platform users have so far earned a total group profit of over $1 Billion.