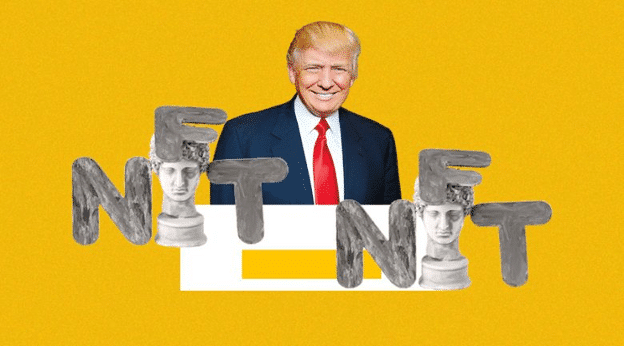 Former U.S. President Donald Trump's Non-Fungible Token (NFT) collection saw a surge in sales after his Tuesday court appearance in New York City.
Data from the OpenSea NFT marketplace reveals that Trump Digital Trading Card holders collectively sold 30 NFTs an hour after his court appearance, a 462% increase, and 47 NFTs within six hours.
Although this was a large jump for Trump's NFT collection, it was a relatively small amount of activity compared to some collections in the NFT space. Nakamigos, one of the top trending NFT collections, recorded 1,286 sales within the same period.
Last week, the floor price of Trump Digital Trading Cards jumped after news of a New York Grand Jury indicting the former U.S. President. The indictment news spurred NFT traders into action, with OpenSea data showing that the floor price of the collection jumped from o.46 ETH to 0.6 ETH within the same day.
Jump Start your NFTs Success by getting early on game-changing Projects
Join our Discord Channel Today!
Donald Trump launched his NFT collection in December last year as a collection of 45,000 NFTs on the Polygon blockchain. Although the move by the former head of state received some criticism from some of his fans, the NFTs were sold out within 24 hours. This was followed by a drop in the hype surrounding the collection, and then a resurgence which saw a rise in the value of the NFTs.
Collectors who bought the digital trading cards automatically joined a "sweepstakes" to get experiences with Donald Trump, including a dinner in Miami, a Zoom call, and a cocktail hour at Mar-a-Lago. The NFTs are differentiated using rarity traits, from one-of-ones to "2, 5, 7, or 10 copies. No Trump Digital Trading Card has more than 20 copies in existence" according to the collection's site.
Donald Trump was in Manhattan criminal court to be arraigned on 34 felony criminal charges of falsifying his business records. The former president pleaded not guilty.
Buy and Sell NFTs for a Profit
You can grow your crypto earnings by buying cheap NFTs and selling them for a profit. NFTCrypto.io has made this even easier for you via their NFT trading signal system. They find profitable flips in the NFT market and share the signal with you in real-time. Join NFT Signals now and become a successful NFT trader. The platform users have so far earned a total group profit of over $1 Billion.