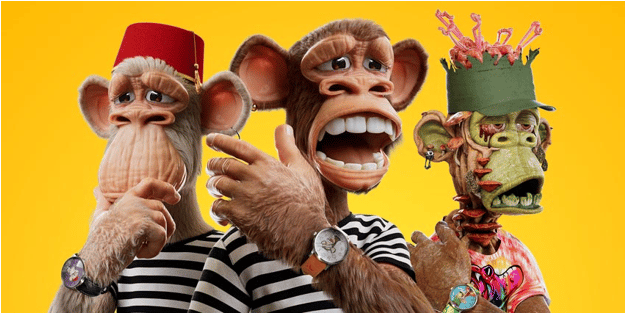 Timex, the top-selling watch in the United States, has partnered with the Bored ape Yacht Club (BAYC) to create a limited-edition collection of physical NFTs (Non-Fungible Tokens).
The Web3 project will introduce a world-first of physical products to be used in the real and virtual world for the holders of Bored Apes and Mutant Apes.
The Timex luxury watches will provide longstanding Bored Ape Yacht Club members with a fully hand-assembled Timex Waterbury Classic model watch for more than 300,000 Apes with 17 different attributes.
For the physical project, Timex is set to issue 500 watches and NFT digital twins, with the watches set to be delivered in the second quarter of 2023 (Q2).
Some of the long-term Bored Ape NFT holders such as Josh Ong, The Miami Ape, CryptoVonDoom, BaronVonHustle, LOGIK, and Zeneca, have consulted the new project.
Daz3D, a marketer, Web3 strategist, and full-stack developer firm has also partnered with the initiative. The Draper, a firm based in Utah, has developed one of the leading 3D platforms in the world to be used by millions of Web3 artists across the globe.
Previously, the company entered Web3 marketing initiatives with Coinbase, Coca-Cola, Nike, Atari, Warner Brothers, Este Lauder, Ledger, Champion, and others.
Shari Fabiani, the Senior Vice President of Global Marketing and Creative Services at Timex Group, stated that Timex had leveraged the Web3 technologies by "keeping creativity and community at the forefront."
"In partnership with the BAYC community, we are redefining and pushing the boundaries of physical, virtual, and now phygital products," she added.
Josh Ong had this to say:
"From customizing the digital collectible and unboxing the physical watch to flexing at Ape Fest, these incredible timepieces will delight Ape holders and keep them guessing at surprises yet to come."
The sales will start today December 2 with an exclusive invitation to the Art Basel in Miami. The general BAYC community members will be able to buy a Timepiece Forge Pass NFT from 4th to 31st December for 2 ETH.
The Forge Passes will use blockchain technologies to verify the authenticity of the watches.
Timex has become one of the many brands leveraging blockchain and web3 technologies to add value to their brands and benefit their customers. A good number of firms have joined the metaverse market to increase the visibility of their brands and collaborate with top collectives in the web3 space.
Make Money by Trading NFTs
Are you looking for a way of growing your crypto earnings? It's easy! You can earn crypto by buying cheap NFTs and selling them for a profit. NFTCrypto.io has made this even easier for you through their NFT trading signal system. They find profitable flips in the NFT market and share the signal with you. Click here to subscribe and start receiving NFT trading signals now. The platform users have so far earned a total group profit of over $270K.