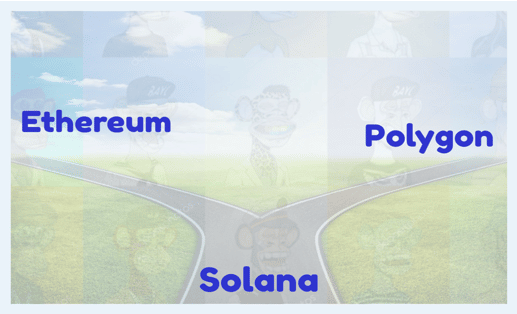 Solana is known as the second largest NFT (Non-Fungible Token) ecosystem globally. It is considered the best alternative to Ethereum when it comes to minting NFTs. However, Solana is now in a tough spot, with top digital collectibles leaving the network for its competitors.
DeGods and y00ts, two popular Solana projects, have revealed their plans to shift to Ethereum and Polygon blockchains. Although Solana is the second largest NFT ecosystem in the world, active projects and developers are leaving the network. Solana's NFT marketplace is the fourth in terms of trading volume, according to data obtained from DappRadar.
Token Terminal data reveals that the number of active Solana developers has risen by 90% in 2022 alone. With the activity on the Solana blockchain declining, NFT projects and developers are shifting to competitor blockchains such as Ethereum and layer-2 scaling solutions.
Following the collapse and bankruptcy of the FTX exchange, the price of Solana recorded a significant decline. DeGods and y00ts NFT projects recently announced their plans to shift to rival blockchains.
Why Solana Projects Plan to Shift to Ethereum and Polygon
DeGods officially announced it will bridge to Ethereum in Q1 2023. However, DeGods made it clear that Ethereum is just a bridge and not the destination. The NFT project has started the journey to getting there.
Details of the bridge are set to be released soon, regarding when the release will be done and tested. DeGods will release the season 3 roadmap for the collection in January 2023, giving further details.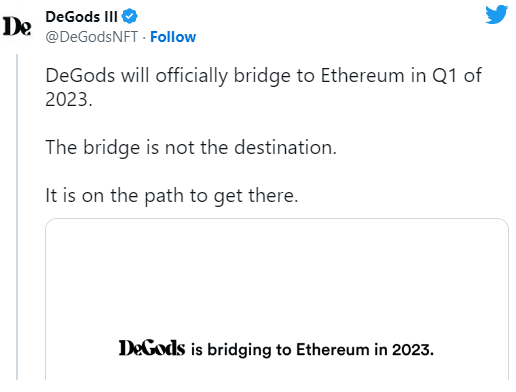 The y00ts NFT project has stated that it's ready to shift to the Polygon blockchain, an Ethereum layer-2 scaling network.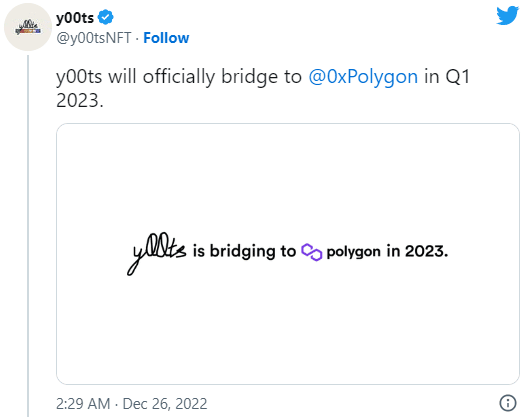 With two top NFT projects leaving the Solana blockchain, it is very clear that the activity on the Solana blockchain is reducing.
The price of SOL, the native token of the Solana blockchain, has dropped by 95.6% from its all-time high of $259.56. The token is currently trading at $11.31 and may drop to a monthly low of $10.94. However, if it manages to reverse the downtrend, it will invalidate the downtrend thesis.
Buy and Sell NFTs for a Profit
You can grow your crypto earnings by buying cheap NFTs and selling them for a profit. NFTCrypto.io has made this even easier for you through their NFT trading signal system. They find profitable flips in the NFT market and share the signal with you in real-time. Join NFT Signals now and become a successful NFT trader. The platform users have so far earned a total group profit of over $700M.