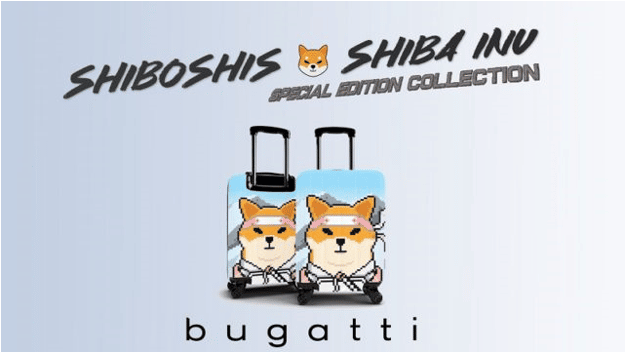 The Bugatti Group and Shiboshi Club took the internet by storm on Sunday after their latest collaboration to launch an NFT project.
The Bugatti Group and Shiboshi Club managed to sell out their special NFT mint collection in just 4 minutes.
Shiboshi wrote this on Twitter:
"The special Shiboshi x
@bugattigrp mint collection has sold out in the first 4 minutes! Thank you for participating!"
Nakalikes, a development studio that runs on Web3 technologies commented on the strong demand for the NFTs. They wrote:
"We are blown away by the incredible demand of the @shibtoken and @BugattiGroup NFT drop and humbled to have been a part of it. Sold out in a record-breaking 110 seconds!" The limited edition NFTs came alongside some amazing physical items.
The physical items are eco-friendly physical custom carry-on luggage or eco-friendly physical custom cross-body bags. Anyone who managed to grab one was given a 55% discount on products that had already been released by The Shiboshi Club x The Bugatti Group.
The minting event went live during a Twitter space at midnight on January 15. After the "mint party" was completed, the NFT holders were allowed to claim the physical merchandise after a week.
Although the NFT drop excited the Shiba Inu community, they are still waiting for the Shibarium layer-2 solution to be released.
Shytoshi Kusama, a lead developer at Shibarium, recently updated and shared his status which read "tending the Pine Tree of Life." Onlookers were quick to realize that the status message was related to Shibarium.
Kusama wanted to point out that Shibarium has withstood winter-like conditions and it is most likely to withstand whatever that comes its way.
By comparing Shibarium to pine trees, Kusama meant that the project needed attention and dedication just like other living beings, requiring proper soil, adequate water, and light to flourish.
At the time of writing, the Shiba Inu coin was trading at $0.00001205 after rising by 14.8% over the past 24 hours. This is according to data obtained from CoinGecko, one of the leading cryptocurrency exchange platforms.
Buy and Sell NFTs for a Profit
You can grow your crypto earnings by buying cheap NFTs and selling them for a profit. NFTCrypto.io has made this even easier for you via their NFT trading signal system. They find profitable flips in the NFT market and share the signal with you in real-time. Join NFT Signals now and become a successful NFT trader. The platform users have so far earned a total group profit of over $950M.