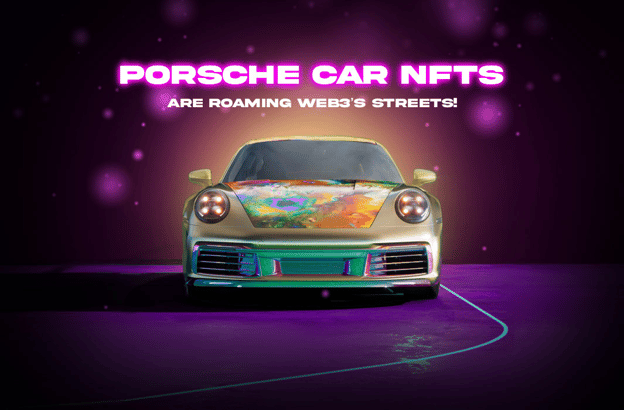 Porsche, the German carmaker, launched its first NFT (Non-Fungible Token) collection on Monday, but the project is not headed to high resale prices as fans expected.
The collection comprises 7,500 NFTs that pay homage to Porsche's iconic 911 sports car. Minting for allowlist holders was opened at 9:00 am EST on Monday in 4 waves, each running for 1 hour. After the end of the initial allowlist mint, the mint was opened to the general public, coming with an open-ended stop time. The collectors could mint up to 3 virtual 911 Porsches at 0.911 each, approximately $1,490.
The next phase of the mint allows the NFT holders to choose a path to follow from 3 and customize the rarity and design of their NFTs.
Hours after the mint was initially opened, the collection sales seemed to be stalling. At the time of writing on Tuesday, only 1,393 NFTs, about 18%, of the total collection, had been sold. This is according to data obtained from Porsche's official website.
The collection sales on the secondary market also seemed to idle. At the time of writing, OpenSea data showed that the collection had a floor price of 0.8905 ETH, which translates to about $1,405, meaning that the collection was selling for about $50 cheaper on secondary NFT marketplaces such as OpenSea when the mint was ongoing.
Porsche announced its plans to launch an NFT collection at Miami Art Week in December with much anticipation. The company partnered with Road2Dreams, a subsidiary of Germany's digital collectible company Fenzone, to distribute the tokens.
Some Twitter users were against the collection, citing its expensive mint price and its sales strategy that seemed misaligned with the ethos of Web3.
Responding to Porsche's mint announcement on Twitter, a Twitter user by the name "0://wilder.frank" wrote:
"The Porsche mint is a perfect example of why even the most established brands need to partner with Web3 natives to enter the space in a real way."
Another user wrote:
"So, 1071 Items minted, FP under MP … Game is done I think, and went as expected, unfortunately. Please @eth_porsche, you're an amazing brand, but when you come in web3, act as Web3, not web2."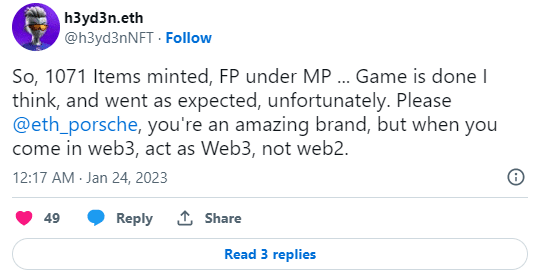 David Krugman, an artist and founder of Allships, an NFT creative agency, also commented on the collection's mint price on Twitter, stating that it was out of touch with the target Web3 community. According to Krugman, Web2 brands entering Web3 should think long-term when launching their NFTs. He wrote:
"My number one piece of advice for major brands entering the space is to make your first effort as close to free as possible. Find your community and prove yourself to them before you ask for millions of dollars."
Buy and Sell NFTs for a Profit
You can grow your crypto earnings by buying cheap NFTs and selling them for a profit. NFTCrypto.io has made this even easier for you via their NFT trading signal system. They find profitable flips in the NFT market and share the signal with you in real-time. Join NFT Signals now and become a successful NFT trader. The platform users have so far earned a total group profit of over $1 Billion.