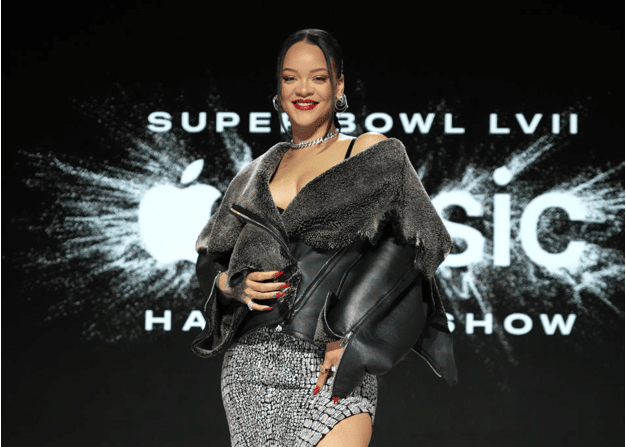 A popular song released by Rihanna, a popular music artist, was offered as an NFT (Non-Fungible Token) through anotherblock, a Web3 music startup, on Thursday, allowing the holders to receive partial streaming royalties. The new platform works with holders of rights such as writers, producers, and artists, to deduct a percentage of their streaming royalty rights, which are in turn offered as fractionalized NFTs.
Music Producer Deputy, who collaborated with Travis Scott, Kanye West, and WondaGurl to produce Rihanna's hit 2015 single "B**** Better Have My Money," is giving a portion of his streaming royalties to collectors via anotherblock.
After the initial release of the track, it went triple platinum in the U.S., attracting about 1 billion streams across music-sharing platforms.
The royalty-linked NFTs were 300 in number and were made available for purchase from 5 p.m. GMT/12 p.m. EST on Thursday for $210 per piece. According to the company, every NFT holder will receive "a portion of 0.0033 % of the streaming royalties" for the song.
The holders will receive their first royalty payment on February 6, the company said. They will also receive payments every 6 months depending on the streaming revenue.
The NFT collection sold out in minutes, the company announced on Twitter:
"sold out in a few minutes on the allowlist sale our community is absolutely amazing without you guys this would never have been possible
▪ our upcoming pipeline of music drops is absolutely amazing to rest assured
▪ the 16th of Feb our first holders will receive the first payout"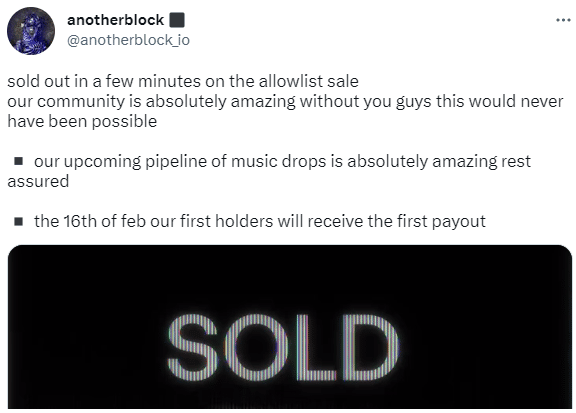 The NFT collectors will receive unique artwork created by an NFT artist, plus a custom music track and "a real-world legal contract specifying the terms of the streaming royalties and guaranteeing real-world ownership for the NFT holder."
The holders will also have access to real-world events, a gated Discord community, and priority access to upcoming NFT releases.
This NFT drop comes ahead of Rihanna's Super Bowl LVII performance on Sunday.
Several other music NFT services have also seen a rise in popularity over recent months. Examples include Catalog, a primary marketplace for single-edition music NFTs, and Royal, a platform for music tokenization founded by DJ and entrepreneur Justin "3LAU" Blau.
Buy and Sell NFTs for a Profit
You can grow your crypto earnings by buying cheap NFTs and selling them for a profit. NFTCrypto.io has made this even easier for you via their NFT trading signal system. They find profitable flips in the NFT market and share the signal with you in real-time. Join NFT Signals now and become a successful NFT trader. The platform users have so far earned a total group profit of over $1 Billion.