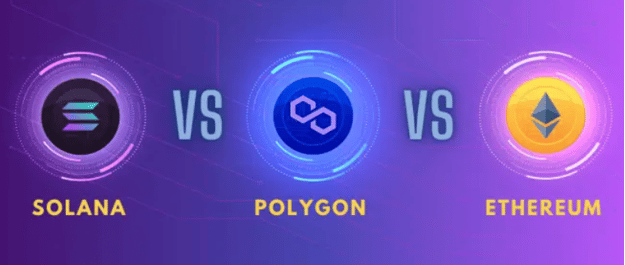 The Polygon NFT market has recorded an increased adoption, bringing it closer to Ethereum in terms of user numbers. This is according to data obtained from Nansen, an analytics platform. NFT ecosystems running on other blockchains such as Ethereum and Solana have recorded a decreasing number of users every week.
Solana has seen its NFT weekly users drop from over 160,000 in September to about 60,000 in December, while Ethereum weekly users have dropped from over 250,000 to about 183,000.
Over the last month, 10 NFT collections running on the Polygon blockchain attracted over 180,000 holders, while 4 collections attracted the attention of over 500,000 holders. Compared to the Ethereum NFT marketplace, there are only 4 collections with more than 100,000 holders and 1 collection with more than 500,000 holders. Nansen data shows that no single Solana NFT collection has had more than 30,000 holders.
Some of the top NFT collections on the Polygon blockchain include The Sandbox, Trump Digital Trading Cards, Spooky Season: Rojom x Reddit Collectible Avatars, Sunflow Land Collectibles, Crypto Unicorns Market, and others.
Additionally, the number of weekly Polygon NFT ecosystem users has risen by over 500% since August. The Polygon NFT ecosystem had over 240,000 users between December 5 and December 12, recording a new weekly record.
The average volume of transactions processed on the Polygon blockchain from November to early December was around 24.36 million, with the majority of the transactions being mints. By December, Polygon NFTs had a trading volume of more than 338 million MATIC held across 2.5 million unique wallets.
Polygon is seen as one of the best alternatives to the Ethereum blockchain for NFT minting. Although most NFT projects run on the Ethereum blockchain, there has been an extensive search for alternatives. The reason is that Ethereum transactions take longer to complete due to the high volume of transactions received on the network. As a result, users end up incurring high gas charges. This makes minting NFTs on the Ethereum blockchain a bit expensive.
Polygon and Solana are seen as the best alternatives to the Ethereum blockchain, but the new stats indicate that Polygon is now preferred for NFT minting over Solana.
Buy and Sell NFTs for a Profit
You can grow your crypto earnings by buying cheap NFTs and selling them for a profit. NFTCrypto.io has made this even easier for you through their NFT trading signal system. They find profitable flips in the NFT market and share the signal with you in real time. Join NFT Signals now and become a successful NFT trader. The platform users have so far earned a total group profit of over $700M.