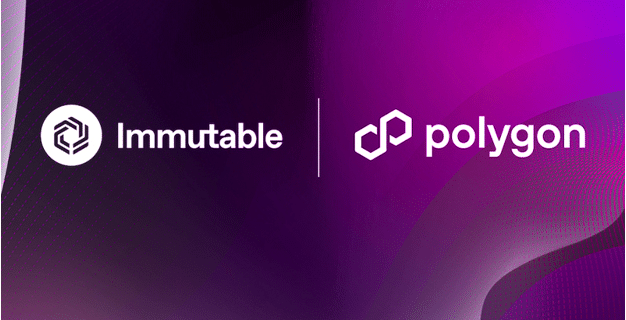 Web3 gaming platform developer platform, Immutable, is partnering with Polygon Labs, to hasten the development of Web3 gaming.
A press release indicates that products on Immutable's platform will be powered using Polygon's zero-knowledge technology (zkEVM) to make the process of onboarding game developers and studios in Web3 simpler. The partnership aims to provide businesses with an option that "accelerates time-to-market and gives them access to an ecosystem that will be one of the largest and most liquid for end users," according to the press release.
"By combining the number one Web3 gaming platform – currently serving hundreds of game studios and millions of players – with Polygon's best-in-class zkEVM technology, we are building an Ethereum-centric gaming ecosystem that is poised to take Web3 mainstream and bring digital ownership to millions of people around the world," stated Robbie Ferguson, the Immutable president, and co-founder. "Billions of dollars of skins are sold each year with no rights for players – we're changing that so players are in control, and ownership is the expectation."
Jump Start your NFTs Success by getting early on game-changing Projects
Join our Discord Channel Today!
Both Immutable and Polygon have put efforts into expanding the growing Web3 gaming industry by launching new tools and entering mainstream partnerships. Immutable launched a venture fund worth $500 million for Web3 gamers in June, while Polygon launched a business unit focused on advancing Web3 gaming in July.
Both Immutable and Polygon are Ethereum scaling networks. Immutable X is a layer-2 network, while Polygon's current primary network is a sidechain. Although the two use different approaches, they make Ethereum more useful for things like large-scale NFT projects, video games, and other decentralized apps (dapps) by facilitating cheaper, faster transactions than on the Ethereum mainnet.
Although the first NFT projects were launched on the Ethereum blockchain, the number of NFT collections launched on other blockchains has been rising. Due to the high number of transactions on the Ethereum network, users experience slow transaction speeds, which results in high gas charges. This has led to an increased demand for Ethereum alternatives when it comes to minting and trading NFTs.
A zkEVM solution such as Polygon's and others will improve the scalability of the Ethereum network, pairing transaction rollups based on zero-knowledge proof cryptography with full support for Ethereum Virtual Machine (EVM). It is a secure and fast solution that is natively compatible with the smart contract capabilities of Ethereum.
Buy and Sell NFTs for a Profit
You can grow your crypto earnings by buying cheap NFTs and selling them for a profit. NFTCrypto.io has made this even easier for you via their NFT trading signal system. They find profitable flips in the NFT market and share the signal with you in real-time. Join NFT Signals now and become a successful NFT trader. The platform users have so far earned a total group profit of over $1 Billion.