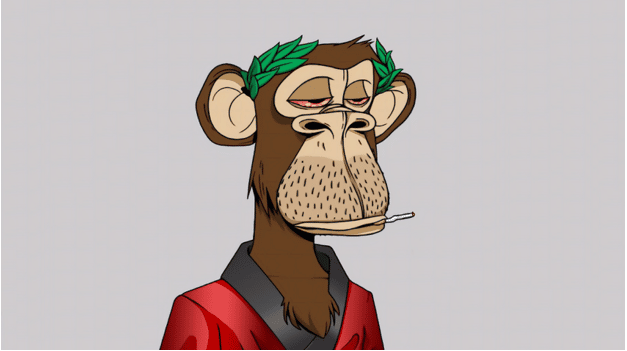 The OpenSea NFT marketplace is under fire from some Bored Ape Yacht Club (BAYC) NFT holders as scammers and bad actors are exploiting the platform's policies. On January 13, Franklin, the second largest BAYC holder, tweeted that someone had exploited the marketplace's stolen ape policy to sell to his collection offer. This is the second time this has occurred within a week.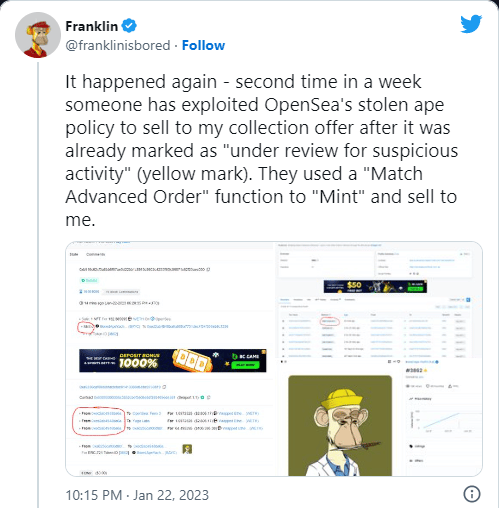 The attacker exploited the policy to make the sale after it had been marked as under review for suspicious activity. According to Franklin, the attackers used the match advanced order function to mint and sell the BAYC NFT to him.
Om January 20, Franklin had asked OpenSea to fix the stolen ape policy, which he termed a failed one. During that occasion, an ape had been sold for 65 WETH to his OpenSea offer. "This is just sad and slows everything down. This helps no one," Franklin added.
OpenSea is yet to respond to the claims raised by Franklin, but this has captured the attention of the NFT community. Most critics argued that OpenSea has done very little with the policy and it had only made little success as far as catching stolen apes is concerned.
Nevada Judge Dismisses OpenSea Lawsuit
OpenSea also had some positive news last week. A Nevada judge dismissed a lawsuit filed against OpenSea, LooksRare, and Yuga Labs, the BAYC founder. The lawsuit alleged that the three had not handled the theft of BAYC NFTs properly.
The dismissal of the lawsuit was good news to OpenSea and the other parties, but there are other several ongoing lawsuits. Many lawsuits have also been filed against Yuga Labs. In December 2022, the Bored Ape Yacht Club founder faced a lawsuit over celebrities promoting the NFT collection. It also faced another lawsuit on allegations of "fraudulent promotion" of ApeCoin and the BAYC NFTs.
Buy and Sell NFTs for a Profit
You can grow your crypto earnings by buying cheap NFTs and selling them for a profit. NFTCrypto.io has made this even easier for you via their NFT trading signal system. They find profitable flips in the NFT market and share the signal with you in real-time. Join NFT Signals now and become a successful NFT trader. The platform users have so far earned a total group profit of over $1 Billion.