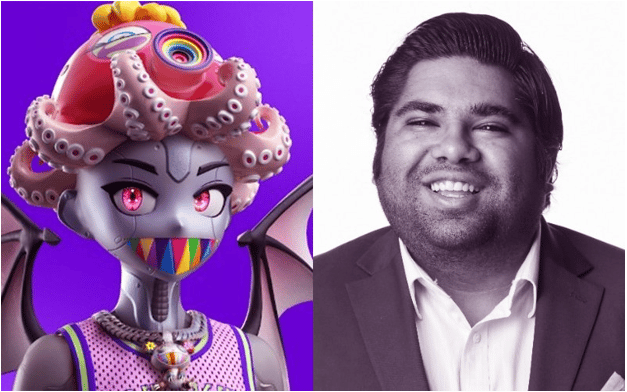 Nikhil Gopalani, RTFKT COO, lost his massive treasure trove of NFTs on Monday to a scammer in a phishing attack. RTFKT is a next-gen crypto brand that Nike acquired in December 2021. RTFKT is making headlines in the digital wearable space and it has created content with Takashi Murakami, a popular digital artist.
"Hey Clone X community—I was hacked by a clever phisher (same phone # as Apple ID) [who] sold all my Clone X / some other NFTs," Gopalani wrote on Twitter
"Pretty upset and hurt by this and I haven't been able to move all day," he added. "Hope people who bought my clones love them (being positive)."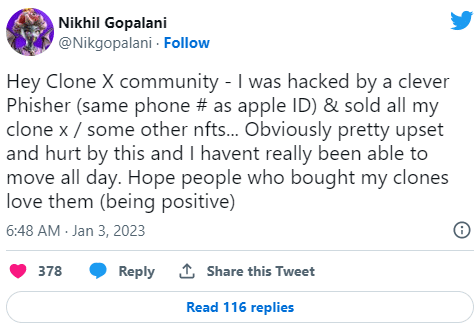 At the time of writing, the wallet linked to Gopalani had lost all its NFTs except one, which is a Death Row Records NFT belonging to the "Clone X Theme Song" going for about $59. According to Etherscan, only $0.11 of ETH is remaining in the wallet.
OpenSea data reveals that the attacker used two wallets to drain NFTs worth more than $173,000 from Gopalani's wallet, which included 18 RTKFT Space Pods worth over $6,300, 19 CloneX NFTs worth over $138,000 combined, 11 CryptoKicks ($3,000), 17 Loot Pods ($6,200), 19 RTFKT Animus Eggs ($20,200), and more.
Note that the above values have been calculated using the floor price values of the NFTs, meaning that their value may be higher. RTFKT is yet to comment on the total value of Gopalani's lost NFTs.
At the time of writing, one of the wallets belonging to the attacker appears to be empty, while the other wallet is still holding Gopalani's assets in public view.
Although it is unclear how the attack happened, a comment from Samuel Cardillo, RTFKT CTO, suggests that Gopalani could have revealed his confidential information to a hacker who was posing as a representative from Apple.
"For legal purposes, we won't be able to go into deeper details until further notice," said Cardillo in response to the hack.
"All I can say is: be aware that companies such as Microsoft, and Apple, will never ask you for your password, your private key, or any other forms of private information via phone or emails."
CloneX #17088, which Gopalani uses as his Twitter profile picture, has changed ownership twice since the wallet was drained. The NFT is currently held by lyx.eth, who holds two more CloneX NFTs. Lyx.eth stated that they were not aware that they were buying Gopalani's stolen NFT. Lyx added that RTFKT has already reached out to them to try to get back the stolen NFT.
Buy and Sell NFTs for a Profit
You can grow your crypto earnings by buying cheap NFTs and selling them for a profit. NFTCrypto.io has made this even easier for you via their NFT trading signal system. They find profitable flips in the NFT market and share the signal with you in real time. Join NFT Signals now and become a successful NFT trader. The platform users have so far earned a total group profit of over $700M.