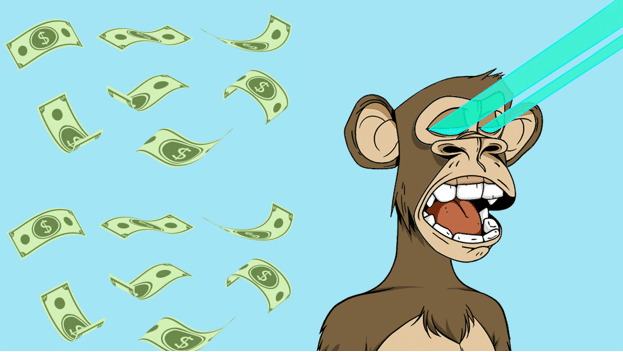 February NFT sales volume soared to levels not seen since the start of crypto winter last spring. This is according to data shared by DappRadar.
The total NFT trading volume surpassed $2.04 billion in February, a 117% rise from the $941 billion total NFT sales recorded in January. The new figures make February the best month for the NFT market in terms of sales since May last year when the implosion of Terra cratered the crypto economy and buried the then hot-NFT market.
However, the February surge in NFT sales appears to be indebted almost entirely to one source, the Blur NFT marketplace.
The new NFT marketplace, which surpassed OpenSea in trading volume just this month, has recently risen to dominance after introducing incentives in which it financially rewards loyal users for refraining from trading on any other platform and for trading many high-value NFTs.
The trading volume of the platform jumped over $1.13 billion in February from the prior month, a value that accounts for almost the entire NFT market's month-over-month gain. However, the majority of that volume came from a small number of whales flipping NFTs back and forth to earn BLUR tokens from the platform's ongoing incentives scheme.
Whether to count that trading volume as legitimate or not is a big question in the NFT industry. Last week, Cryptoslam, a popular platform for tracking NFT sales, announced that it will remove $577 million worth of Blur NFT trades from its data citing "market manipulation."
DappRaddar, another popular NFT and DeFi tracking platform has stated that it will accept Blur's trading volume as legitimate for now.
"Due to the bidding logic used [by Blur], most trades performed by Blur farmers are bypassing [our wash trading] logic," said Pedro Herrera, DappRadar's Head of Research. "We're currently looking into this, but we won't be flagging all Blur sales as wash trades."
Wash trading is the habit of traders selling NFTs back and forth between their crypto wallets, mostly at inflated prices to increase the market value of the assets. Previously, similar efforts to exploit incentive programs offered by NFT marketplaces such as LooksRare have been termed as wash trading.
The question of whether to label Blur's recent spike in activity as legitimate or not has huge implications for the NFT industry. If Blur's activity is labeled as not legitimate, then February's NFT sales would look the same as January's. This will mean that February's NFT sales did not change from January but dropped by about 2% to 6.47 million.
Despite the competition OpenSea is facing from Blur, the NFT marketplace continued to chug along in February. Its NFT sales rose by 18% last month, hitting $587.22 million. OpenSea also has the highest number of unique NFT traders than Blur, just above 316,000 traders compared to Blur's 96,000.
Buy and Sell NFTs for a Profit
You can grow your crypto earnings by buying cheap NFTs and selling them for a profit. NFTCrypto.io has made this even easier for you via their NFT trading signal system. They find profitable flips in the NFT market and share the signal with you in real-time. Join NFT Signals now and become a successful NFT trader. The platform users have so far earned a total group profit of over $1 Billion.