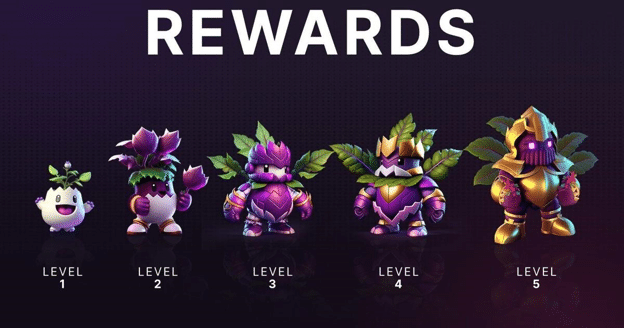 Magic Eden, a leading Solana-based NFT marketplace, is set to roll out a rewards program for loyal traders, said the company on Wednesday.
The new feature is called Magic Eden rewards and it will allow the users to create profiles across all wallets. The users will be awarded "Magic Points" depending on their secondary trading transactions on the platform.
For every 1 SOL traded on the platform, the user will earn 5 "Magic Points" and the user will be categorized into one of the five loyalty tiers. The users will be rewarded with unique benefits such as exclusive partner discounts, creator content, and NFT giveaways airdropped directly to their profiles. Each step a user climbs up the ladder will provide greater benefits, including access to NFTs and deeper discounts.
Traders who have used multiple Solana wallets to trade NFTs on the platform can link all of them into a single Magic Eden account and maximize their rewards consideration, instead of having multiple accounts each based on a single wallet. A representative from Magic Eden confirmed that the wallet associations done on the NFT marketplace will not be disclosed to the public, but they will be kept private.
"As a marketplace, we've been trying hard to ship innovation that goes beyond the pure transactional layer," said CEO Jack Lu in a release. "Magic Eden Rewards gives us ways to celebrate and engage our community in new ways."
The NFT marketplace is also planning to introduce a dynamic fee pricing program into its tiering structure. This means that instead of charging users a flat fee, the amount of fee that users pay to transact will be based on their activity on the NFT marketplace and it will be distributed among both buyers and sellers.
The move by Magic Eden to introduce a loyalty rewards program on its NFT marketplace comes after it changed to a royalty optional model in October, which led to a drop in its trading volume. Earlier this month, Magic Eden reverted its decision and unveiled an opt-in tool to help creators to enforce royalties on their NFT projects.
Jack Lu, the CEO of Magic Eden, and Tiffany Huang, the head of marketing, said that the rewards program introduced by Magic Eden will allow creators and collectors to collaborate better through an infrastructure that entices engagement.
"We want Magic Eden to be a place where collectors and creators connect beyond the transactional level and instead, a hub where users can more deeply engage with the community," said Lu and Huang.
Make Money with NFTs Today
Do you desire to make money with NFTs?
You can grow your crypto earnings by buying cheap NFTs and selling them for a profit. NFTCrypto.io has made this even easier for you through their NFT trading signal system. They find profitable flips in the NFT market and share the signal with you in real-time. Join NFT Signals now and become a successful NFT trader. The platform users have so far earned a total group profit of over $600M.