The creator of Mutant Ape Planet, a Mutant Ape Yacht Club knock-off collection, has been arrested in New York for an alleged "rug pull scheme" which has left investors counting losses worth $2.9M.
Aurelien Michel, a French national, was arrested on January 4 at John F. Kennedy International Airport in New York with Ivan J. Arvelo, a homeland security agent, alleging that "Aurelien Michel perpetrated a rug pull scheme" and stole "nearly $3 million from investors for his personal use."
"Purchasers of Mutant Ape Planet NFTs thought they were investing in a trendy new collectible, but they were deceived and received none of the promised benefits," Arvelo added.
Thomas Fattorusso, an International Revenue Service agent, in a press release was quoted saying that "Michel defrauded investors by making false representations of, amongst other things, giveaways, tokens with staking features, and merchandise collections."
Michele later withdrew the funds after the NFTs were sold out, the release adds.
The statement adds that Michel admitted to having perpetrated a rug pull via a social media chat, saying "we never intended to rug but the community went way too toxic."
Mutant Ape Planet is a knock-off project of the Mutant Ape Yacht Club (MAYC) and it comprises 6,797 NFTS minted on the Ethereum blockchain. The collection was launched in January 2022 but its price and sales have dropped since then.
After the arrest of Michel, many holders of the NFTs have shared their stories on Twitter, some stating that James had blamed his departure on the high number of community members who had become skeptical after the project went through a season of inactivity.
A Twitter user going by the name "PerfectElectro" wrote:
"Lack of activity and actual showing of any sign of promised utility. This led to a lot of the community being skeptical. This led to an increase of fud flowing in the chats and it became extremely toxic. However the founder of @planet_mutant claims that we caused him to leave-"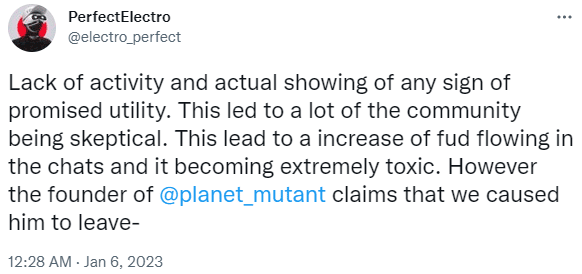 The user further explained, "When I'm reality what was happening was the founders were not holding to their promised utility leading into people losing trust and then one day the founders completely disappeared with no notes, nothing. Things went sideways here as lots of people left the community."

The NFT project has been taken over by the community which is trying to revive it back to life, being led by a user going by the pseudonym "HTMadge."
A DappRadar report released on December 21 revealed that rug pulls, an exit scam where project creators suddenly abandon it or withdraw liquidity from the platform, were the common types of NFT attacks in 2022, accounting for 119 cases in which funds worth $200 million were stolen.
Buy and Sell NFTs for a Profit
You can grow your crypto earnings by buying cheap NFTs and selling them for a profit. NFTCrypto.io has made this even easier for you via their NFT trading signal system. They find profitable flips in the NFT market and share the signal with you in real time. Join NFT Signals now and become a successful NFT trader. The platform users have so far earned a total group profit of over $700M.