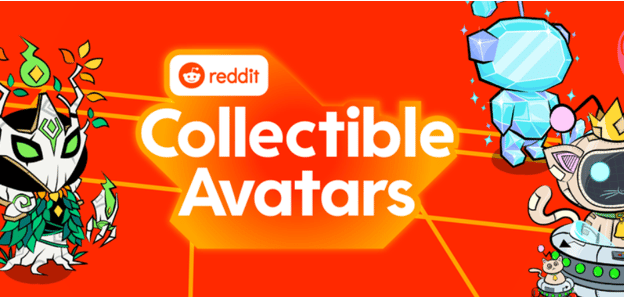 Reddit has been pushing into tokenized avatars amidst declining NFT sales and the ongoing crypto market turmoil. The polygon-based initiative has now achieved a new milestone with over 5 million Reddit collectible avatars minted to date.
The Reddit collectible avatars are not concentrated among high-value NFT collectors since it has over 4.25 million unique crypto wallets. About 3.95 million of the crypto wallets only hold a single Reddit NFT.
Reddit is a popular discussion forum where people can discuss topics of common interest. The platform announced its plans to launch the NFT avatars in July, choosing Ethereum sidechain network Polygon to provide both free and premium avatars. Most of the Reddit NFTs minted so far have been free avatars given to the heavy users of the forum, which has millions of different communities (subreddits).
In October, Pali Bhat, the Reddit Chief Product Officer, announced that users had created over 3 million Polygon wallets to collect the Reddit NFTs. This announcement led to a spike in the price of the premium Reddit NFTs as well as their trading volume. Secondary sales worth millions of dollars were generated in days.
However, the hype about the Reddit premium NFTs was short-lived, as only about $700,000 worth of sales has been made in the last month. The Reddit NFTs have made secondary sales worth about $11.85 million to date, far below top-rated NFT projects such as the Bored Ape Yacht Club (BAYC), which has generated about $61.6 million in sales over the last 30 days.
The Reddit NFT program remains a good example of how web2 platforms can spearhead massive adoption of web3 technology through giveaways.
The number of NFTs being minted through this initiative accelerated recently. On December 3, over 250,000 of the Reddit Polygon NFTs were minted, marking a new milestone and beating the single-day peak of August.
Reddit joins other top brands building on the Polygon blockchain, for example, Meta with its Instagram NFT minting program, Nike with its digital apparel program, and Starbucks with its Web3-rewards program.
Trade NFTs and Get Handsome Returns
Do you know that you can grow your crypto earnings by buying cheap NFTs and selling them for a profit? NFTCrypto.io has made this even easier for you through their NFT trading signal system. They find profitable flips in the NFT market and share the signal with you in real-time. Join NFT Signals now and become a successful NFT trader. The platform users have so far earned a total group profit of over $280K.