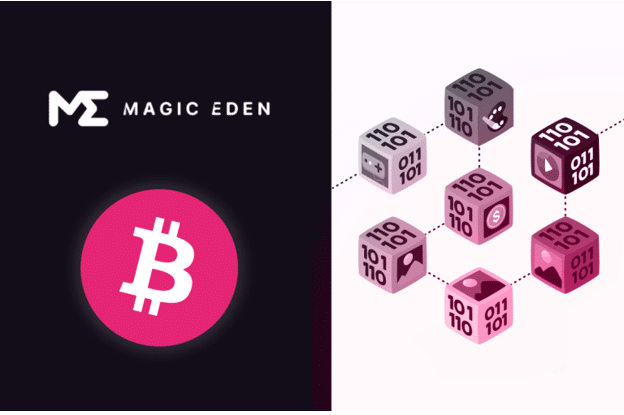 The Ordinals Protocol for inscribing digital assets on the Bitcoin blockchain, similar to NFTs stored on Ethereum and other blockchains, has kicked off in a big way so far this year. And with the total number of Ordinals almost hitting 1 million, Magic Eden is launching a platform that enables creators to launch new collections.
The multi-chain marketplace, which was recently launched on the Bitcoin blockchain and quickly overtook its rivals in terms of trading volume, announced that its Bitcoin Launchpad will debut on Friday. The Launchpad will be a primary sales platform for creators who have inscribed their media or artwork to the Bitcoin blockchain.
Deadjira is the first Launchpad project for Magic Eden on Bitcoin. Dadjira is a spinoff project from Godjira, an Ethereum NFT project that comprises a series of 107 pixelated lizard-themed profile pictures (PFPs) inscribed in February.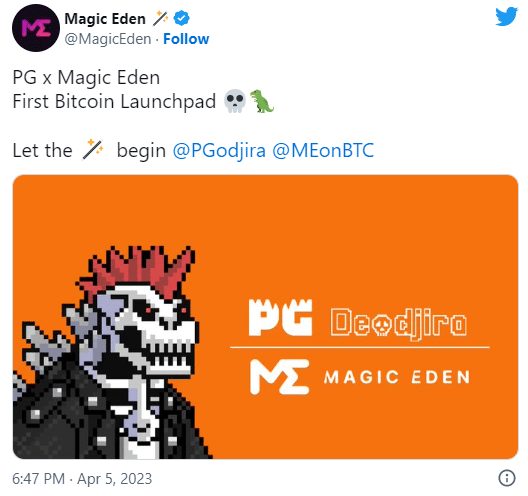 Jump Start your NFTs Success by getting early on game-changing Projects
Join our Discord Channel Today!
The Launchpad will feature additional Ordinal drops over the following week, including Genopets, a Solana-based NFT game project. Others include fellow existing NFT projects The Humanoids and Lazy Lions, and a project from Lil Durk, a popular rapper.
The Launchpad will initially allow creators to sell Bitcoin Ordinals that have already been inscribed to the blockchain, or Magic Eden will facilitate the inscription process on request.
The creators can use an allowlist to allow certain wallet addresses to mint ordinals and users will "come to mint in a trustless minting form, and it will essentially execute the sale of the pre-inscribed Ordinal to the allowlisted users wallet for the mint price," said a Magic Eden representative.
Magic Eden's Launchpad is meant to complement its secondary marketplace, offering creators a white glove service for launching new projects. It will help Magic Eden to generate revenue.
Ordinals Rise
The process of inscribing Ordinals or "digital artifacts" on the Bitcoin blockchain is different from minting NFTs on other blockchain networks such as Ethereum or Solana.
NFT projects on such blockchains use smart contracts, which are self-executing pieces of code stored on the blockchain, to facilitate functionality such as on-demand minting. This will enable creators to drop things like profile picture (PFP) projects which feature images generated from many traits or generative artworks created from custom algorithms.
Since the launch of Ordinals in January, over 930,000 inscriptions have been created in just over two months.
Buy and Sell NFTs for a Profit
You can grow your crypto earnings by buying cheap NFTs and selling them for a profit. NFTCrypto.io has made this even easier for you via their NFT trading signal system. They find profitable flips in the NFT market and share the signal with you in real-time. Join NFT Signals now and become a successful NFT trader. The platform users have so far earned a total group profit of over $1 Billion.