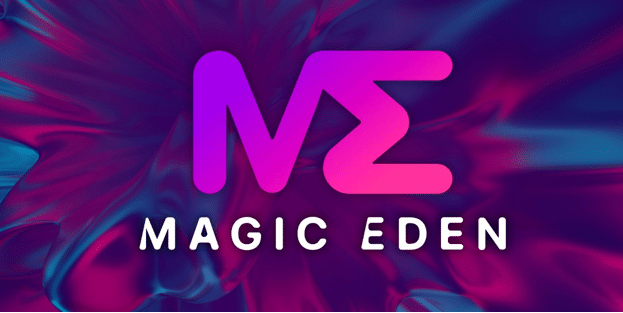 Magic Eden, the leading Solana NFT marketplace, has launched its own "fully audited" marketplace for Bitcoin Ordinals as the interest in Bitcoin NFTs surges.
Announcing the news, Magic Eden tweeted the following on Wednesday 21st:
"Welcome to a new dawn. Magic Eden is now on Bitcoin.
Now, you can safely trade your favorite collectibles on the 1st audited marketplace with $BTC.
Explore 70+ collections on our marketplace: http://bit.ly/3Z5sUjG
Don't forget to follow
@MEonBTC!"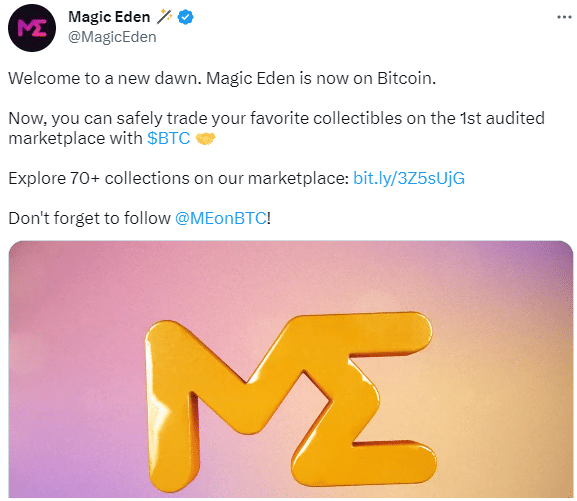 The new marketplace allows Bitcoin NFT traders to buy and sell Bitcoin Ordinal collections, enabling the users to have the same experience Magic Eden offers for other NFTs, that is, Ethereum, Solana, and Polygon-based NFTs.
"Just as we have expanded into other chains, we now aim to bring our expertise in building marketplaces to the nascent, yet flourishing Ordinals ecosystem," the company said in a March 21 statement.
This marks the latest multi-chain move by Magic Eden after expanding to Polygon and Ethereum last year. The NFT marketplace was valued at $1.6 billion in June last year.
Jump Start your NFTs Success by getting early on game-changing Projects
Join our Discord Channel Today!
Ordinals are an innovation for Bitcoin, allowing for on-chain storage of media without using smart contracts as with other blockchain networks, and most of the tools are being developed in real-time. This makes minting, trading, and handling ordinals a more complicated process than on other blockchain networks such as Solana and Ethereum.
Magic Eden has however stated that its Ordinals marketplace will offer the same experience that users have been enjoying on its platform.
Magic Eden is a non-custodial NFT marketplace and it doesn't have control over assets being traded on its platform. The platform will offer support for Ordinals-compatible Xverse and Hiro wallets at launch. Magic Eden has claimed that it is the first fully audited marketplace for Ordinals.
The new Ordinals protocol was introduced by Casey Rodarmor, a former Bitcoin core contributor, in January. The popularity of Bitcoin Ordinals has been rising since then. This month, Yuga Labs, the creator of the Bored Ape Yacht Club (BAYC) NFTs, launched its first Bitcoin NFT collection named "TwelveFold." The collection yielded $16.5 million within 24 hours after its launch.
Dune analytics data reveals that Bitcoin Ordinals inscriptions rose from 679 to 240,000 between February 1 and March 1. As of March 21, 567,087 Ordinals had been inscribed.
Buy and Sell NFTs for a Profit
You can grow your crypto earnings by buying cheap NFTs and selling them for a profit. NFTCrypto.io has made this even easier for you via their NFT trading signal system. They find profitable flips in the NFT market and share the signal with you in real-time. Join NFT Signals now and become a successful NFT trader. The platform users have so far earned a total group profit of over $1 Billion.