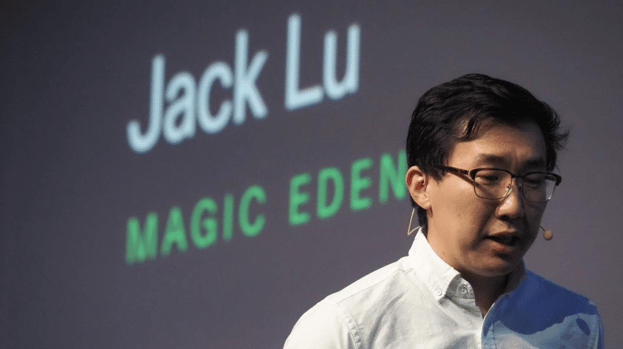 Magic Eden, the leading NFT marketplace for Solana NFTs, announced the layoff of 22 of its staff on Monday as part of a company-wide restructuring to deal with the crypto winter that started in 2022.
Since the start of 2023, many prominent crypto companies have announced layoffs. Examples include Coinbase, Huobi, Luno, Crypto.com, and Blockchain.com.
Jack Lu, the CEO of Magic Eden posted this on Twitter:
"Today is a sad day at Magic Eden.
As part of a company-wide restructuring, we have made the difficult decision to part ways with 22 teammates. Nothing about this decision takes away from the talent, hard work, and dedication of this incredible group of people."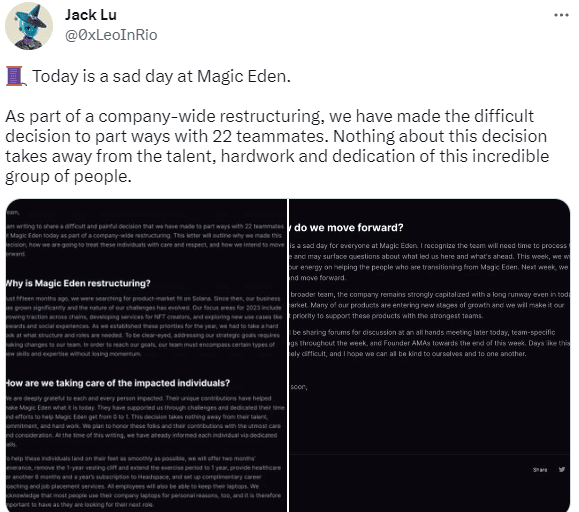 Magic Eden was launched in September 2021 and it has since then risen to become one of the most popular NFT marketplaces for NFTs minted on the Solana blockchain. In September 2022, Magic Eden expanded into Ethereum, adding support for the Bored Ape Yacht Club, Otherside, and Pudgy Penguins.
"We are deeply grateful to these folks—each of them has contributed immensely to Magic Eden over the last year," tweeted Jack Lu. "We will be honoring them and their contributions with the utmost care and respect. We were able to speak with each person 1:1 before sharing this news publicly."
In a letter accompanying the thread, Lu states that the challenges faced by the company evolved with the growth of the company, adding that after Magic Eden established its priorities for 2023, the company had to take a hard look into the structure and roles that are needed.
"To be clear-eyed, addressing our strategic goals requires making changes to our team," the letter read.
The letter adds that to help those affected by the layoff, Magic Eden will take some measures including providing two months' severance, letting them keep their laptops, removing the 1-year vesting requirement for stock options, and providing healthcare for another six months.
While Lu terms the layoffs as a shock, he says that he continues to look to the future.
"This week, we will focus our energy on helping the people who are transitioning from Magic Eden," said Lu. "Next week, we will regroup, refocus, and move forward."
Magic Eden has taken a hit as the price of SOL, the native token of the Solana blockchain has recorded a sharp fall over the last year. That is why it expanded to support Ethereum and Polygon-based NFTs to remain competitive against NFT marketplaces such as OpenSea.
Buy and Sell NFTs for a Profit
You can grow your crypto earnings by buying cheap NFTs and selling them for a profit. NFTCrypto.io has made this even easier for you via their NFT trading signal system. They find profitable flips in the NFT market and share the signal with you in real-time. Join NFT Signals now and become a successful NFT trader. The platform users have so far earned a total group profit of over $1 Billion.