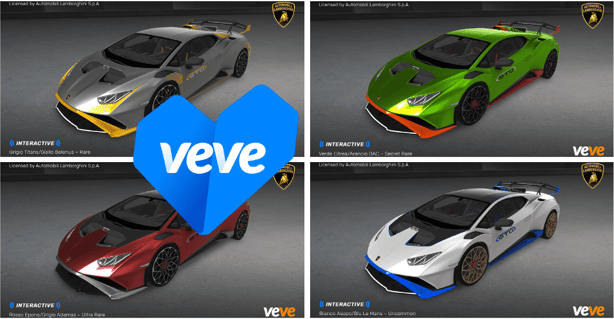 Lamborghini, the historic luxury car manufacturer, is teaming up with VeVe NFT marketplace to launch digital collectibles of its iconic sports cars, the companies announced on Wednesday.
The NFTs are set to be listed on VeVe on February 19 and they will feature the Huracán STO with different rarity traits. After collectors purchase the NFTs, they can showcase them in the virtual rooms of the app, post on their VeVe social feeds, and use augmented reality (AR) to view and "drive" the car on the streets of the real world.
Dan Crothers, a VeVe cofounder said that he is enthusiastic about providing Lamborghini fans a new way of experiencing their favorite car, and believes that the collection will onboard fanatics of sports cars to the Web3 world.
"Owning, or even simply driving, a Lamborghini is a dream of many," Crothers said. "The great thing about our community of passionate collectors is that they just love collecting, but we also hope this will inspire car enthusiasts to jump into the digital collectibles world, too."
David Yu, another VeVe co-founder said:
"Lamborghini has always been at the forefront of luxury and innovation when it comes to Supersports cars, establishing an iconic legacy that is second to none. VeVe is thrilled to collaborate with Automobili Lamborghini to expand their innovative ways into the digital realm and bring back one of the most iconic supercars of all time, the Huracán."
The first drop will feature four first-edition Lamborghini digital artifacts. The editions are divided into four tiers, from Uncommon to Secret Rare. Note that the Lamborghini collection will only be available on the VeVe digital platform. The marketplace is available as a standalone website as well as on PlayStore (Android) and App Store (Apple).
Lamborghini Huracan STO is a road-adapted super sports car that draws its inspiration from the sporting legacy of the iconic car brand. Its motor heritage is drawn from its three-times 24 hours of Daytona-winning as well as two-time 12 hours of Sebring winning Huracán GT3 EVO. It is a good digital collectible for all car enthusiasts and lovers.
Lamborghini is not the only luxury automobile company to venture into the world of Web3. Last month, Porsche launched a series of NFTs featuring its iconic 911 model, which received criticism from creators alleging that the company rushed into Web3. The German car manufacturer had to halt minting the NFTs after receiving feedback from the community.
Buy and Sell NFTs for a Profit
You can grow your crypto earnings by buying cheap NFTs and selling them for a profit. NFTCrypto.io has made this even easier for you via their NFT trading signal system. They find profitable flips in the NFT market and share the signal with you in real-time. Join NFT Signals now and become a successful NFT trader. The platform users have so far earned a total group profit of over $1 Billion.