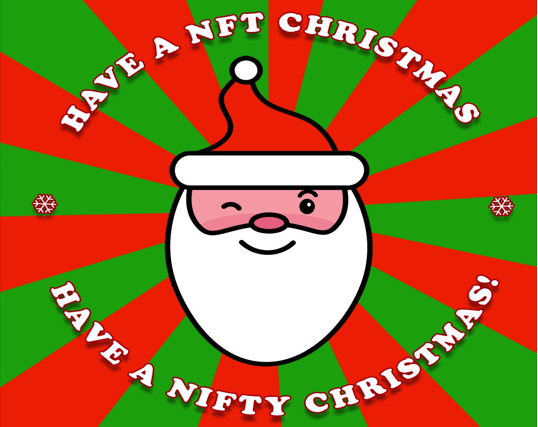 Iotabee, the first decentralized exchange to run on the IOTA network, has launched an NFT (Non-Fungible Token) platform.
Iotabee stated in a tweet that the new platform is especially meant for the Christmas holiday season. The IOTA community users can mint and send out customized Christmas gifts in the form of NFTs to their loved ones via Shimmer, the IOTA's canary network.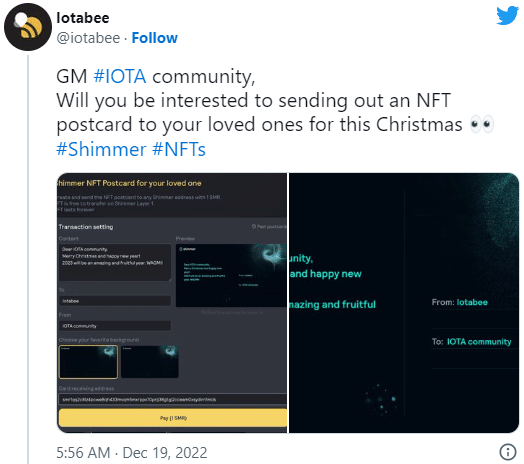 The project is one of the latest NFT ecosystem innovations of the IOTA blockchain. However, the project leverages some of the unique features of NFTs running on the IOTA blockchain.
It will cost the users 1 SMR token to create and send the NFT postcards. The users will mint the postcards for free and they will live on the Shimmer network layer 2 blockchain forever.
Suck perks are some of the top selling points for NFTs running on the IOTA blockchain. Dominik Scheiner, the chairman, and co-founder of the IOTA foundation, previously stated that IOTA NFTs have three layers.
The first one is free minting for those holding the IOTA tokens. When creating IOTA NFTs, you only pay for the storage space on the IOTA blockchain. There are also IOTA NFTs with their on-chain data. Such NFTs can store their metadata on the blockchain rather than on NPFS.
The third layer is NFT wallets. This feature allows one to own many NFTs. This is a good feature for gaming NFTs in which the main in-game characters can own other purchasable accessories or assets as NFTs.
The IOTA ecosystem is Progressing Rapidly
IOTA only launched these NFT capabilities last year during the launch of the Shimmer network. The Shimmer network is a layer 1 network that shares some similarities with Polkadot's Kasuma. The launch of the network introduced tokenization to IOTA. It also extends the Directed Acyclic Graph used in IOTA with an execution layer.
According to Scheiner, it means that IOTA now supports smart contracts based on the Ethereum Virtual Machine (EVM). This capability has seen the IOTA decentralized applications ecosystem come alive.
"Shimmer takes the good things of IOTA and adds new capabilities," said Scheiner.
Scheiner added that over 70 decentralized applications are currently building on the IOTA blockchain, including some stablecoins and Defi platforms. He also made it known that IOTA has started initiatives meant to incentivize projects including a grants program and a dedicated team known as TouchPoint.
It is now possible to run EVM projects on IOTA courtesy of a bridging partnership between IOTA and multichain.
Grow your Crypto Earnings
Trading NFTs, is a simple way of growing your crypto earnings. NFTCrypto.io has made this even easier for you. They find profitable flips in the NFT market and share the signal with you in real-time. Join NFT Signals Telegram Channel and start receiving NFT trading signals now. The platform users have so far earned a total group profit of over $600M.