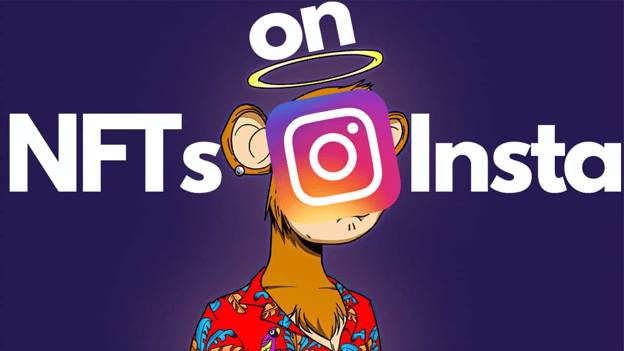 After Facebook changed its company name to Meta in 2021, most of its efforts since then have been about expanding its reach into Web3. One of the major undertakings by Meta in 2022 was integrating NFTs (Non-Fungible Tokens) into Facebook and Instagram.
Today, Meta announced that it is set to introduce new creator updates on Facebook and Instagram. Meta revealed that Instagram creators will soon be able to create NFTs and sell them to their followers. The creators will be granted access to a toolkit that they can use to create, display, and sell NFTs. Meta has already chosen Polygon as a partner for the new feature.
Instagram users will be able to buy NFTs directly from the app. According to Meta, the process will be done using traditional in-app purchases on Android and iOS. For now, Instagram is not deducting the revenues generated by the creators. The new feature is being tested with a small group of U.S creators and Meta plans to expand it to other countries in the future.
There are also plans for Instagram to add support for Phantom wallet and Solana blockchain to join the list of blockchains and cryptocurrency wallets supported by the platform. Instagram supports MetaMask, Rainbow, Trust Wallet, Dapper Wallet, and Coinbase crypto wallets. It supports Ethereum, Flow, and Polygon blockchains. Additionally, data for some collections will be made available on Instagram.
Other than the NFT updates, Instagram is planning to expand access to subscriptions to all eligible U.S creators. Testing of the subscriptions started in January, but only a small number of creators are taking part in this. With this feature, creators can give their followers paid access to exclusive live videos and stories on Instagram. The subscribers also get a special badge that even shows up in the creators' inboxes and the comments section.
Meta has also announced that Facebook will increase access to Stars, which allows creators to make money directly from their Reels followers. Facebook is also set to begin testing automatic onboarding for the creators, meaning that the ability to send stars will be displayed in the content. There are also plans for Facebook to add Stars to photos and text posts, which are non-video content.
A step-by-step video about the new feature reveals that the creators will have the opportunity to set their royalty percentages, between 5% and 25%. They can also link their PayPal and bank accounts to receive payments.
Although Meta is taking significant measures to ensure that the process of integrating NFTs into Instagram is successful, it may take some time for the fruits of these initiatives to bloom. However, once they do, people may see one of web2's popular platforms grow into a powerful web3 platform.