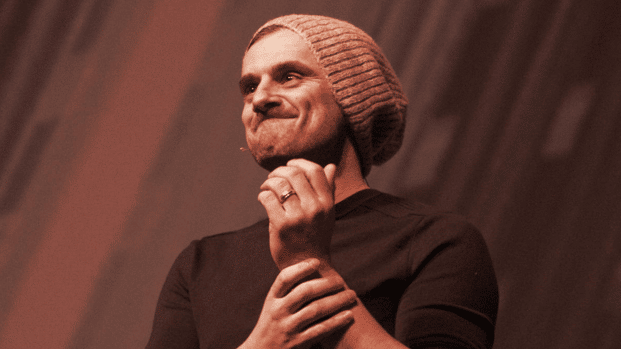 Candy Digital, a sports and entertainment NFT startup founded in 2021, has laid off a significant percentage of its staff. The value of the company spiked to $1.5 billion months after it was launched.
It was first reported by Sportico that Candy had laid off over a third of its staff which comprises about 100 persons, citing sources close to the startup. Matthew Muntner, who worked with Candy as a Community Content Manager, wrote in a tweet that he was one of those affected by the layoff.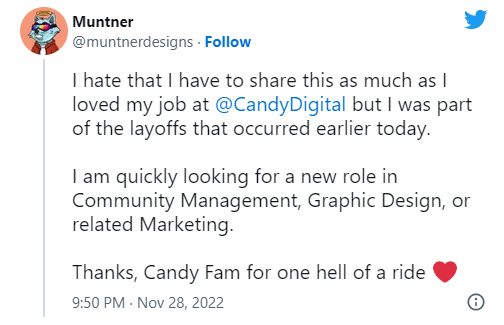 Make Money Flipping NFTs
With the high number of NFT projects in the NFT market, it is becoming increasingly difficult for investors to find profitable NFT projects for flipping.
Luckily, NFTCRYPTO.IO has made this easy for you. They have developed the best NFT trading signal system to help you find the best flips in the NFT market. They provide a minimum of 5 signals a week for long and short NFT trading positions. Subscribe now and learn from professional crypto and NFT traders and reach handsome returns with controlled risk. The platform users have so far earned a total group profit of over $270K.
Candy Digital was founded by Michael Rubin, the executive chairman of Fanatics, a sports merchandise giant, together with CEO Mike Novogratz and investor and entrepreneur Gary Vaynerchuk in June 2021. Fanatics was known as the majority owner of the startup at that time and it had stated that it would tap its existing large customer base to grow Candy.
In October 2021, Candy Digital raised $100 million at a valuation of $1.5 billion in a Series A round organized by Softbank's Vision Fund 2 and Insight Partners. Fanatics representatives could not comment on this because Candy Digital is run independently and they don't take part in Candy's day-to-day operations.
Candy Digital was launched with the official Major League Baseball license, and it has so far sold several collections related to the league and the teams. The firm has also managed to roll out other sports licenses, such as a partnership with World Wrestling Entertainment (WWE), all NASCAR teams, and some college athletes.
Candy Digital has also ventured into entertainment-themed digital collectibles, such as the Netflix alliance which has yielded many "Stranger Things" NFTs. Candy Digital has also partnered with Getty Images, a stock photo firm, to sell tokenized photos. The Candy NFTs were minted on an Ethereum Sidechain network called Palm.
NFTs (Non-Fungible Tokens) are digital items stored on the blockchain to represent the ownership of digital assets. They can represent digital objects such as artwork, sports collectibles, and video game items. The NFT market recorded tremendous growth in 2021, generating a trading volume worth $25 billion. The momentum was carried into 2022 but it faded after the start of the ongoing crypto crash.