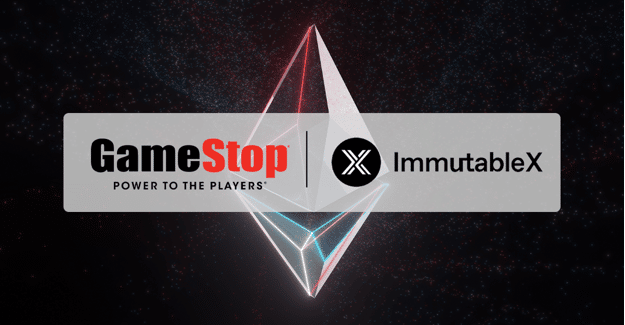 GameStop, a video game retailer, has integrated support for NFTs minted via Immutable X, an Ethereum Layer-2 scaling network, into its NFT marketplace. This means that objects from web3 games can now be traded on the platform.
Immutable X-based games such as Illuvium, Guild of Guardians, and Gods Unchained have their corresponding interactive NFT items accessible via the GameStop marketplace. These include tokenized, tradeable items like customizable land plots, digital cards, and others.
GameStop launched its NFT marketplace in July, but it only offered collectibles and digital artworks during the launch. The company had already announced its plans for its marketplace and the Web3 audience was waiting for it to bring NFTs into the fold.
The partnership between GameStop and Immutable X was first made known to the public in February. GameStop announced an incentive fund for Web3 game developers worth $100 million.
Immutable X runs on the Ethereum blockchain, the leading blockchain network for decentralized applications. There are some challenges that Ethereum blockchain users face. The Ethereum blockchain network has a high number of users, hence, it receives a high volume of transactions. This results in a slow transaction speed when using the blockchain. As a result, users incur high gas fee charges. However, Immutable X has come up with a solution to these challenges. To facilitate cheaper and faster transactions, it offloads the transactions to a second-layer blockchain.
Immutable is the company behind the platform, and it attained the crypto "unicorn" status this year. Investors such as Animoca Brands and Tencent are betting on Immutable's plan for Web3 programming, bringing the firm a $2.5 billion valuation through a $200 million funding round in March.
During the launch of the Web3 Gaming NFTs, GameStop announced that its NFT marketplace has successfully gone through beta testing. GameStop is providing traders with some incentives to use its platform. One of its representatives has stated that the platform is giving users 1% of their daily trading volume back in IMX token, the native token of Immutable. It also rewards its users for staking or locking up their tokens. The current marketplace fee has been set to only 0.2%, but they have not specified how long this will last.