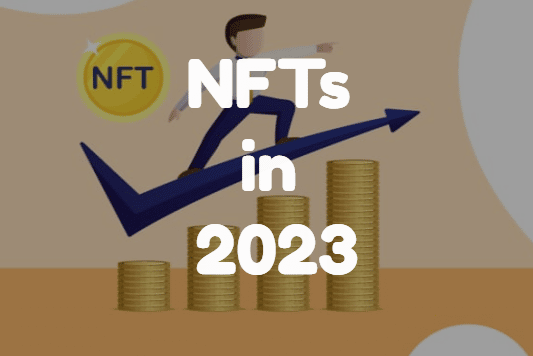 Cryptoslam data shows an increase in NFT sales in the first week of 2023. The NFT sales statistics indicate that NFT sales surged by 26.01% in the first week of the New Year compared to the last week of 2022. The data reveals that there were 1.2 million NFT transactions carried out by 400,748 NFT buyers. NFTs worth $208.99 were sold across 19 different blockchains, with Ethereum NFT sales accounting for $164.35 million of the sales.
Ethereum-based NFT sales rose by 26.22% this week, followed by Solana NFTs whose sales increased by 28.8%, Immutable X by 20.83%, Cardano by 35.97%, and BNB by 71.35%. BNB recorded the highest increase over the last seven days, with a 71% increase, followed by Theta, which rose by 69.82% this week.
The Bored Ape Yacht Club (BAYC) NFTs were leading in terms of sales volume over the last week. The BAYC NFTs generated sales worth $19,052,102, which is a 52.82% increase from the previous week. The BAYC NFTs were followed by the Mutant Ape Yacht Club (MAYC), Azuki, Bored Ape Kennel Club (BAKC), and The Captainz. The Cryptopunks and Mineablepunks NFT collections took the sixth and seventh positions.
5 of the most expensive NFTs sold over the week were from the Mineablepunks NFT collection. These include Mineablepunks #11,467, #11,755, #11,467, #11,755, and #11,467. The Mineablepunks collection alone generated sales worth $5,498,938 over the last week, but the sales had dropped by 49.50% from the Mineablepunks sales of the previous week.
NFTPriceFloor.com data shows that the Bored Ape Yacht Club is still leading in terms of NFT floor price. At the time of writing, the BAYC NFTs had a floor price of 80.00 ETH having dropped by 1.83% over the past 24 hours. The CryptoPunks comes second with a floor price of 66.88 ETH. The floor price of the collection has not changed over the past 24 hours.
Buy and Sell NFTs for a Profit
You can grow your crypto earnings by buying cheap NFTs and selling them for a profit. NFTCrypto.io has made this even easier for you via their NFT trading signal system. They find profitable flips in the NFT market and share the signal with you in real time. Join NFT Signals now and become a successful NFT trader. The platform users have so far earned a total group profit of over $700M.