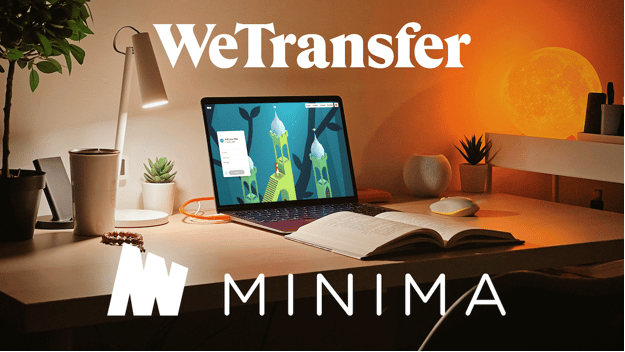 WeTransfer has made its first step into the NFT space by partnering with Minima, a Swiss blockchain firm.
Minima was started in 2018 in Zug, Switzerland, a town well-known for its crypto start-up ecosystem. WeTransfer is one of the top file transfer companies in the world, generating a revenue of $77 million in 2021.
The WeTransfer X Minima partnership will see the two firms launch NFTs on Minima's network, which is scheduled to go live in 180 countries in March, granting creators rights management for their digital property. Minima is currently in its testnet phase.
The companies have stated that users will be able to create NFTs from any device, including mobile phones. Additionally, consumers will be able to control who and how they share their digital assets as well as the tools for monetizing these NFTs.
The partnership will see blockchain users "share their digital assets and efficiently collect revenue."
"This partnership will explore the practical use of NFT technology, something which interests not only the crypto industry but will be a test case to demonstrate the potential of wider adoption of this innovative digital tool," said Hugo Feiler, Minima CEO.
Minima is a peer-to-peer and layer 1 blockchain network optimized for mobile use. The firm has written on its website that its ultra-lean protocol will let users "run a full constructing and validating node," creating a fully decentralized network.
The blockchain uses the Minima coin as its native token to facilitate peer-to-peer transfers between users without the need to rely on a third party.
Minima uses the Proof of Work (PoW) consensus mechanism, which, according to its whitepaper, was developed around decentralized power usage, removing large miners and rewards from the equation, and spreading the calculations across the network devices.
Minima raised $6.5 million in a Series A funding round in October 2021 from many key investors, including SMO Capital, GSR, and Vinny Lingham.
Big Brands Turn to NFTs
It is not the first time that an established brand is attempting to get its footing in the provision of NFT infrastructure.
Mastercard announced its collaboration with Polygon during the recent Consumer Electronics Show (CES) held in Las Vegas, NV. The collaboration between Mastercard and Polygon, a speedy blockchain network, included a proposed infrastructure for artists to mint their own NFTs.
eBay, the online retail giant, also acquired KnownOrigin, a renowned NFT marketplace for an undisclosed amount of money in June 2022.
Buy and Sell NFTs for a Profit
You can grow your crypto earnings by buying cheap NFTs and selling them for a profit. NFTCrypto.io has made this even easier for you via their NFT trading signal system. They find profitable flips in the NFT market and share the signal with you in real-time. Join NFT Signals now and become a successful NFT trader. The platform users have so far earned a total group profit of over $1 Billion.