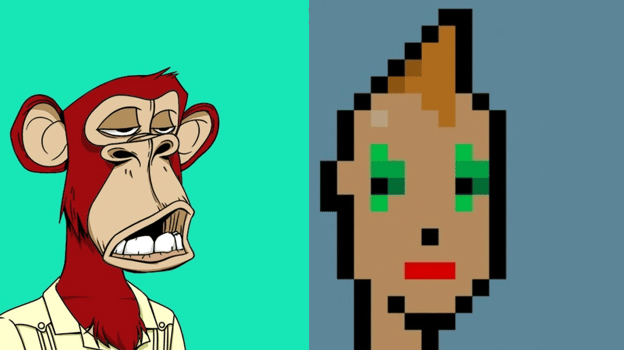 Statistics obtained from NFT Price Floor indicate that CryptoPunks are now more valuable than Bored Ape Yacht Club (BAYC) NFTs in terms of floor values. At the time of writing, NFT Price Floor shows that the CryptoPunks NFT project has a floor price of 66.79 ETH while BAYC NFTs have a floor price of 58.1819 ETH. The 7D lowest sale price for the CryptoPunks is 60.00 ETH while that of Bored Apes is 0.10 ETH. The CryptoPunks is currently ranked #1 in the NFT price floor while the Bored Ape Yacht Club is ranked #2.
This did not start today but the CryptoPunks have surpassed the Bored Ape Yacht Club NFTs in terms of the floor price for the last 6 days. Statistics for the last 10 days show that the floor price of CryptoPunks remained above 60.00 ETH while that of Bored Apes dropped below the 60.00 ETH range.
In August 2021, the CryptoPunks floor price surpassed that of BAYC until the first week of January 2022. Other than a few other short occasions and this week's occurrence, the floor price of Bored Ape Yacht Club NFTs has been higher than that of CryptoPunks for the most time in 2022.
On August 21, 2022, Bitcoin.com News reported CryptoPunks' floor price had spiked past that of the Bored Apes temporarily. At that time, both NFT projects had their floor price above 64 ETH and ETH was trading at a price of about $1,610 per unit.
This week, NFT sales have dropped by about 24% from last week's NFT sales. Over $114 million worth of NFTs has been sold this week, with the Bored Ape Yacht Club leading in terms of sales volume.
The Bored Ape Yacht Club NFTs have a 24-hour sales volume of 972.20 ETH, followed by the Otherdeed for Otherside NFTs with a 24-hour sales volume of 958.04 ETH. The BAYC NFTs have made 16 sales in the last 24 hours while Otherdeed for Otherside has made 429 sales. The CryptoPunks NFTs have generated a sales volume worth 601.75 ETH in the last 24 hours and 9 sales have been made within the same period. However, CryptoPunks NFTs are still ahead of Bored Apes in terms of floor price.
Both CryptoPunks and Bored Ape Yacht Club NFTs are still leading in the NFT market when it comes to the most expensive floor values. Other notable competitors for the week include Azuki, Mutant Ape Yacht Club (MAYC), QQL Mint Pass, and DigiDaigaku NFTs. The CryptoPunks has a market cap of 667,800 ETH while the Bored Apes have a market cap of 581,819 ETH.
The two NFT projects are owned by Yuga Labs, a popular company in the crypto space that is also behind many other notable NFT projects. They are also categorized as profile pictures (PFPs) as their owners can use them as profile pictures on social media platforms such as Twitter and Instagram.