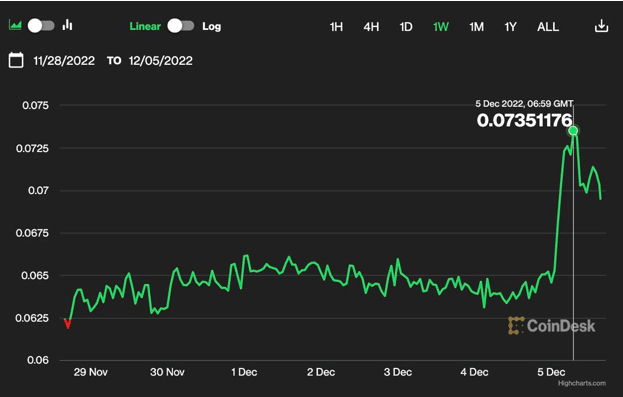 Crypto.com's CRO token gained value on Monday after news of the exchange joining hands with Coca-Cola to launch a series of NFTs (Non-Fungible Tokens) celebrating the 2022 FIFA World Cup in Qatar broke out.
The price of CRO climbed by 10% after the press release hit, though it dropped to 8.5% advance at press time. The coin remained one of the top-performing tokens during the day.
However, the value of CRO is lower by about 50% over the past month, which can be attributed to the crumbling cryptocurrency market after the collapse of the FTX crypto exchange. The coin is now down by almost 90% year over year.
Crypto.com has stated that they will host 10,000 NFTs on their blockchain, and the NFTs will be created by Coca-Cola and GMUNK, a popular digital artist.
The NFTs were created by tracking the in-game movements of players during the Qatar World Cup matches. The tracking was done using "heat maps."
The fans can purchase the NFTs by signing up for an account with the Crypto.com NFT platform. They can also secure chances of winning a Coca-Cola "Piece of Magic" NFT by registering on Coca-Cola's fan zone website.
"This year's FIFA World Cup will be the first to leverage Web3 technology," said Steven Kalifowitz, the chief marketing officer at Crypto.com, in the press release. "It's a privilege to partner with Coca-Cola and GMUNK to memorialize these historical matches that will forever be captured on the blockchain. Together we are creating a completely new form of memorabilia."
Get Profitable NFT Trading Signals Today
Do you know the principle of buy low, sell high applies to NFTs? It is an easy way of growing your crypto earnings. NFTCrypto.io has made this even easier for you through their NFT trading signal system. They find profitable flips in the NFT market and share the signal with you. Click here to subscribe and start receiving NFT trading signals now. The platform users have so far earned a total group profit of over $270K.