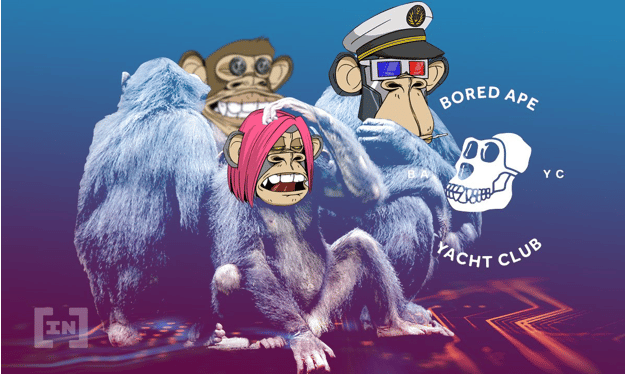 The Bored Ape Yacht Club (BAYC) NFTs have seen a spike in sales, with the project sales increasing by 143% in the last 24 hours. This is according to data obtained from OpenSea, the largest NFT marketplace. The BAYC NFTs have a 24-hour trading volume of 1,120 ETH from 17 sales, which is a 172% increase. At the time of writing, OpenSea data shows that the Bored Ape Yacht Club NFTs have a price floor of 58.87 ETH.
About the Bored Ape Yacht Club
The Bored Ape Yacht Club is a collection of 10,000 unique NFTs in the form of Bored Apes stored on the Ethereum blockchain. BAYC is the most popular NFT project with the Bored Apes being used as the poster child for NFTs. The BAYC NFT project has become the embodiment of the entire NFT industry, just as Bitcoin is for the cryptocurrency market.
The Bored Ape Yacht Club NFT project was created by the famous Yuga Labs. The Yuga Labs team has expanded the project to include a cryptocurrency named Ape Coin. They are also creating a "metaverse" MMORPG game named "Otherside." The Bored Ape Yacht Club NFT holders believe that the brand will make it to the mainstream. The NFT project has already entered into collaborations with popular brands such as Gucci and Adidas.
CryptoPunks, another NFT project owned by Yuga Labs, is considered the genesis of the profile picture (PFP) concept, but the Bored Apes came to refine this concept through many innovations.
When the NFT hype was at its peak in April 2021, the Bored Ape Yacht Club NFTs were being sold for about $400,000. However, the price of the Bored Ape Yacht Club NFTs has fallen as a result of the ongoing crypto crash, which resulted from the Federal Reserve's decision to hike interest rates to tackle inflation.
Each Bored Ape in the collection grants the owner exclusive access to the Bored Ape Yacht Club where they enjoy some benefits. The Bored Ape Yacht Club organizes exclusive parties with free private performances from the club's members such as Lil Baby. Other popular BAYC celebrities include Post Malone, Dez Bryant, Stephen Curry, and Jimmy Kimmel.
The Bored Apes are commonly used as profile pictures on social media platforms such as Twitter and Instagram. With the rising popularity of the Metaverse, a virtual world where users interact using avatars, the demand for rare avatar-based NFTs is increasing. This means that NFT projects such as BAYC will benefit from this.