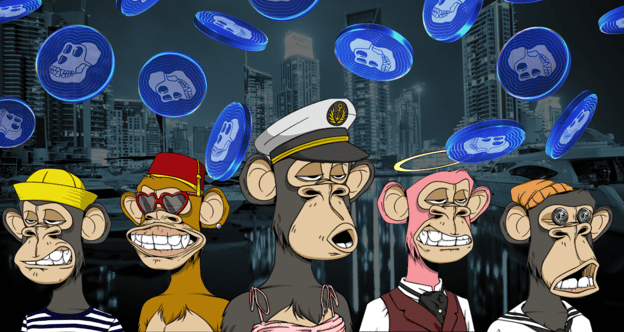 Bored Ape Yacht Club (BAYC) dethroned other blue-chip NFT collections such as CryptoPunks in 2022 to rank #1 in terms of market capitalization. ApeCoin holders have also gained about 10% over the last 14 days. ApeCoin is an Ethereum-based token and the native token of the Bored Ape Yacht Club ecosystem.
BAYC is an NFT collection that comprises 10,000 unique pieces of digital art and competes with blue-chip NFT collections in the NFT space.
NFTGo data shows that CryptoPunks was ranked #1 in terms of market capitalization at the beginning of 2022. CryptoPunks is a collection of 10,000-pixel NFTs generated by an algorithm. At that time, CryptoPunks held 10% of the whole NFT market share. This changed in the second half of 2022 when the Bored Ape Yacht Club took the lead.
At the end of 2022, the Bored Ape Yacht Club had a market cap of $830 million, making it the highest-grossing in the NFT ecosystem. Although the value of the collection recorded a steady decline throughout 2022, BAYC managed to replace CryptoPunks as number one, accounting for 8.12% of the entire NFT market cap while CryptoPunks accounted for 8.08%.
Since the start of 2023, BAYC NFTs have been sold over 17 times and the floor price of the collection has risen by 5% over the last 24 hours. This is according to data obtained from OpenSea.
Although the Bored Ape Yacht Club NFT collection is doing well, its native token, ApeCoin, is trying to recover its losses. ApeCoin holders have gained about 10% over the past 2 weeks, unlike holders of mainstream cryptocurrencies such as Bitcoin and Ethereum.
Although ApeCoin is in an uptrend, technical indicators show that the token has been overbought and it may be heading for a reversal or pullback.
The Relative Strength Index (RSI), a momentum indicator that determines whether a token is oversold or overbought and shows trend reversals, reads 81.44 for ApeCoin. A value of above 70 indicates that a token has been overbought and a price correction may happen.
This means that the price of ApeCoin is at risk of declining. When the token is overbought, traders should enter short positions.
Buy and Sell NFTs for a Profit
You can grow your crypto earnings by buying cheap NFTs and selling them for a profit. NFTCrypto.io has made this even easier for you through their NFT trading signal system. They find profitable flips in the NFT market and share the signal with you in real time. Join NFT Signals now and become a successful NFT trader. The platform users have so far earned a total group profit of over $700M.