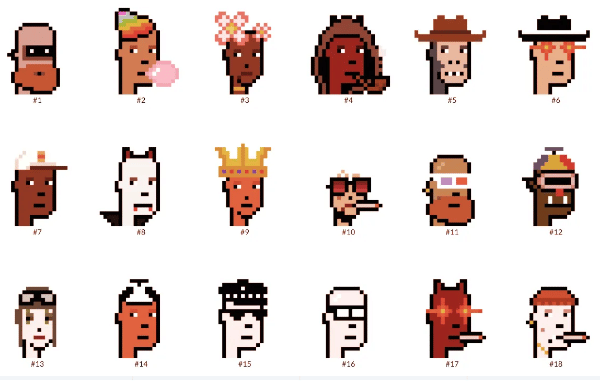 Bitcoin punks are the hottest topic in the Web3 world right now, thanks to a new way of "minting" assets and media on the layer-1 blockchain through the Ordinals project. And just like with many other NFT network launches, cloned versions of CryptoPunks, Ethereum's early and influential NFTs, are dominating the buzz around Ordinals.
CryptoPunk is an NFT project created by Larva Labs in 2017 and it shows special image pixel characters. It is a collection of 10,000-pixel images, with each image showing different combinations, personalities, and special unique characters made randomly. Of the 10,000 pixel images, there are 6,039 male punks and 3,840 female punks.
Some of them wear 3D glasses, red lipstick, buck teeth, and braided teeth, while others wear cool beanies.
However, some punks don't have unique attributes or features. They are called "Genesis Punk." CryptoPunk NFT is one of the NFTs early discovered on the Ethereum blockchain and it is considered to be the most popular NFT.
Ordinals was launched in late January on the Bitcoin blockchain, but there are many CryptoPunks-inspired projects gaining popularity on the platform.
The most prominent of all is the Ordinal Punks, which features 100-pixel avatars that have been inscribed" on Bitcoin via the Ordinals project and they can be traded. Unlike most of the Punks clones that have been created before, the Ordinal Punks are not direct clones of the original CryptoPunks NFT collection.
Some in the crypto Twitter community believe that the Ordinal Punks were derived from Mutant Punks, a derivative Ethereum collection, in other words, it is a derivative of a derivative. However, a person close to the project clarified that Ordinal Punks "used an open-source algorithm and CC0 Punk sprite sheet to generate new Punks."
On Wednesday, an Ordinal Punk was sold for 9.5 BTC, or about $215,000. Although that is almost double the entry-level price of a CryptoPunk, which is about 64 ETH or $106,000 right now, the Ordinal Punk is based on a rare alien CryptoPunk, which has been sold for nearly $24 million worth of ETH in the past.
In another example, dingaling, a pseudonymous NFT collector and investor, tweeted on Wednesday that he had purchased 7 Ordinal Punks for 15.2 BTC, or about $349,000 at that time.
However, since Ordinals has just been launched and works differently than typical NFTs on other platforms such as Solana and Ethereum, there is currently not much infrastructure to support the buying and selling of the assets once they have been described, that is, there are currently no Bitcoin NFT marketplaces for Ordinals.
Such trades are currently being done over the counter (OTC) between users or via escrow services, while bids and online bids are being tracked using online spreadsheets. However, many believe that these early Bitcoin "inscriptions" will gain more value with time.
Buy and Sell NFTs for a Profit
You can grow your crypto earnings by buying cheap NFTs and selling them for a profit. NFTCrypto.io has made this even easier for you via their NFT trading signal system. They find profitable flips in the NFT market and share the signal with you in real-time. Join NFT Signals now and become a successful NFT trader. The platform users have so far earned a total group profit of over $1 Billion.