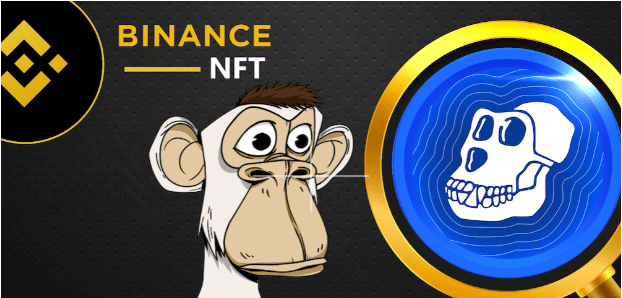 Binance, the leading crypto exchange in the world by trading volume, has released the staking program exclusively for the Bored Ape Yacht Club (BAYC) NFT holders. The users have the opportunity to stake NFTs from the Bored Ape Yacht Club (BAYC) and Mutant Ape Yacht Club (MAYC) collections and earn rewards in the form of APE (ApeCoin) tokens.
Binance is also set to launch a staking program for the Bored Ape Kennel Club (BAKC) soon. There is also a new unique activity for the Ape NFT owners who list their NFTs for sale on the Binance NFT marketplace during the period of the activity.
About the Ape Staking Program
Binance is yet to announce the exact date when the Ape staking program will start. In the meantime, the BAYC and MAYC NFT holders can start to deposit their NFTs into Binance. The NFTs can also be bought from the Binance NFT marketplace.
To qualify for the program, you must first complete the Binance Identity verification process. However, users from regions categorized as restricted are not eligible for the program.
Currently, holders of Bored Ape Yacht Club NFTs are allowed to stake up to 30 NFTs. The holders can stake their NFTs for fixed or flexible terms. The fixed terms are available for 30, 60, and 90 days.
Users can redeem their NFTs before the term expires. However, they will have to wait for between 48 hours and 7 days to receive their NFTs, and this will depend on the option they have chosen. After staking their NFTs, the users are not allowed to list them on the marketplace.
What are the Staking Rewards?
The NFT owners will start to earn rewards the following day after staking their NFTs. The Binance Cryptocurrency exchange will send APE tokens to the Binance spot wallets of the users daily from 00:00 to 08:00 (UTC). The annual package rate (APR) will also be calculated on a daily basis. It will be possible for the users to follow the daily APR the moment it goes live.
Binance also made another announcement that will attract the APE NFT holders to list their NFTs for sale on the Binance NFT marketplace. The holders of BAYC, MAYC, and BAKC NFTs will be eligible to take part in the activity. However, the NFTs must be listed within the specified periods and the holders must observe other requirements. Also, the NFTs can only be listed using the fixed-price option.
Get Profitable NFT Trading Signals and Make Money Today
Do you know the principle of buy low, sell high applies to NFTs? It is an easy way of growing your crypto earnings.  NFTCrypto.io has made this even easier for you through their NFT trading signal system. They find profitable flips in the NFT market and share the signal with you. Click here to subscribe and start receiving NFT trading signals now. The platform users have so far earned a total group profit of over $270K.