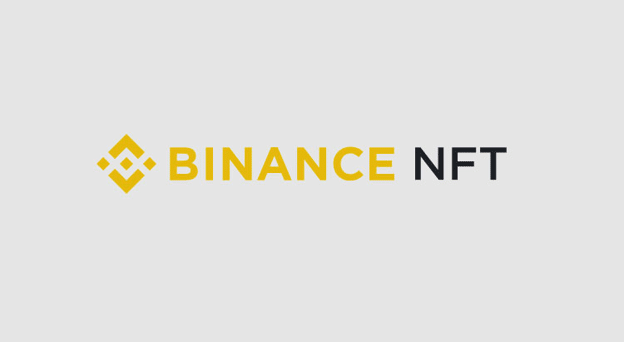 Binance crypto exchange released a new artificial intelligence (AI)-powered NFT generator on Wednesday to benefit its NFT marketplace users. The tool is named "Bicasso" and was launched in beta. Announcing the release on Wednesday, Binance tweeted:
"Here's a fun new #Binance AI product called #Bicasso
You can turn your creative visions into NFTs with AI. Give it a try and show me what you make with it.
Beta version live now, limited to 10k mints."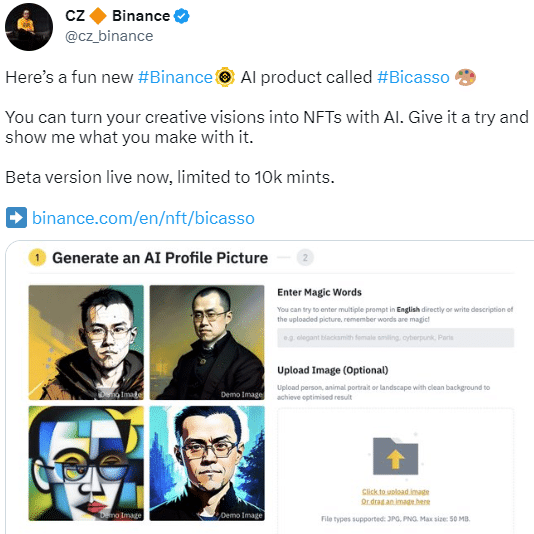 Bicasso works in the same way as AI art platforms like Midjourney or DALL-E, which allow users to type in a creative prompt to generate a unique image or upload an image for the tool to adapt. The users can then go ahead to mint their images as NFTs on BNB, Binance's native chain.
"You can turn your creative visions into NFTs with AI," Changpeng Zhao, Binance CEO, wrote on Twitter. "Give it a try and show me what you make with it."
10K Mints Created in 2.5 Hours
Binance NFT users were quick to jump into the new tool to create and share their work. The AI-powered non-fungible token generator was churning out digital art at full capacity, hitting the cap of 10,000 NFT mints in just 2.5 hours after its launch.
Its mint data shows that at least 9,723 owners minted at least one NFT as part of the limited beta. The generated images were part of the pilot, hence, they are currently not available for resale.
The users went ahead to share their creations with the crypto Twitter community. A Twitter user going by the name "Yuki Eliot" tweeted:
"#Bicasso is a new AI-powered NFT generator that Binance released in beta on Wednesday. It allows users to create NFTs by typing in a creative prompt or uploading an image. Users can then mint their images as NFTs on Binance's native BNBchain. Do you want to try it out?"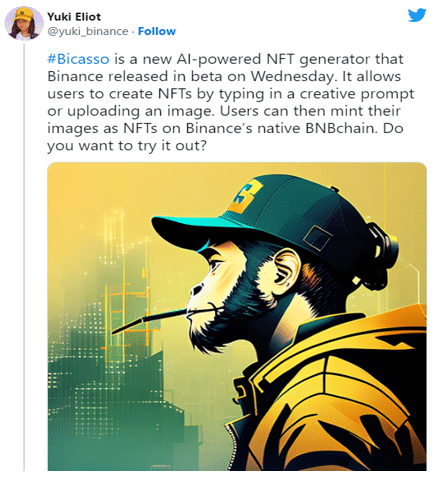 Another Twitter user wrote:
"Me in a better world using the new AI creation tool on
@BinanceNFT
@binance
@LeBinanceFR
#Binance #NFT #AI #Bicasso."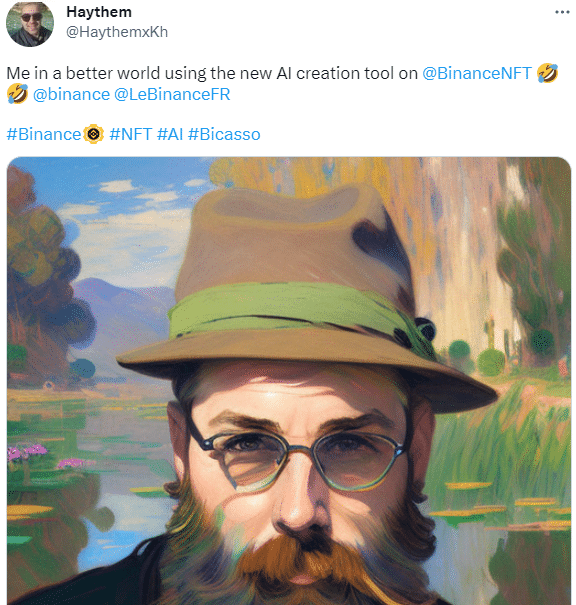 After the pilot launch, Binance admitted there were some glitches due to demand, saying:
"Our team is currently working to increase the server abilities to reduce errors and to make the minting process smoother."
Binance added that those who missed out on the 10K beta quota can sign up and join the waitlist for the full version.
Generative art is one of the latest archetypes in the art world, having been created in whole or in part using an autonomous system. In August last year, Google Cloud AI transformed all the Bored Ape Yacht Club NFTs into machine-generated pieces of art.
Also read, Bored Ape Yacht Club Creator Yuga Labs Reveals First Bitcoin NFT Project.
Buy and Sell NFTs for a Profit
You can grow your crypto earnings by buying cheap NFTs and selling them for a profit. NFTCrypto.io has made this even easier for you via their NFT trading signal system. They find profitable flips in the NFT market and share the signal with you in real-time. Join NFT Signals now and become a successful NFT trader. The platform users have so far earned a total group profit of over $1 Billion.