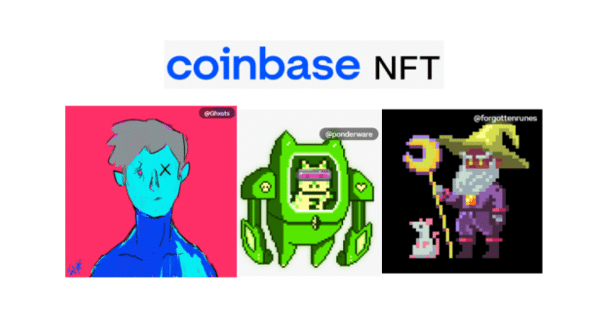 As the number of Non-Fungible Tokens (NFTs) grows at a phenomenal rate, many NFT creators and crypto exchanges have seen the need to have their own NFT marketplaces. Coinbase, the crypto exchange platform with the highest number of users worldwide, has not been left behind. Coinbase launched Coinbase NFT, its own NFT marketplace, in April of 2022.
The American crypto exchange was launched in 2012 and has long been involved in buying and selling of cryptocurrencies. The platform continued to add more features over the years, including staking crypto and now its own NFT marketplace. This marks a major step in the adoption of NFTs as the crypto exchange is used by tens of millions of people globally. In this blog, we discuss Coinbase NFT in detail and the benefits of using the platform.
An Overview of Coinbase NFT Marketplace
The homepage of the NFT Coinbase platform is just as clear as the rest of the exchange. At the top of the webpage, you will find the Drops, Shop, Explore, and Sell buttons. The top-right corner of the webpage allows you to sign up or register for an account.

Let's dive deeper into some of the sections of Coinbase NFT.
Jump Start your NFTs Success by getting early on game-changing Projects
Join our Discord Channel Today!
Coinbase Drops
You can discover both active and past NFT drops in the Drops section of the marketplace. You can click the "Active" tab to see the active drops or the "Past" tab to see the concluded drops.
By clicking any NFT drop, you will be taken to a page with all details for the NFT including the number of available NFTs, the price, owners, total sales, etc.
Coinbase Shop
The Coinbase shop is perhaps the most important section of Coinbase NFTs. It is the place where you can place your bid on various Coinbase NFTs. All NFTs being sold on the platform are listed on this page. The left side of the page allows you to choose whether to view the prices of Coinbase NFTs in ETH or the United States dollar. You can also search for the Coinbase NFTs based on minimum and maximum price so that you can discover NFTs within your desired price range.
Coinbase Explore
The Coinbase NFT Explore page helps you to explore Coinbase NFTs based on various attributes. These include the trending NFTs and NFTs in various categories such as Photography, Sports, Collectibles, Music, Art, Fashion, and Trading Cards.

Coinbase NFT Sell
The NFT Coinbase Sell page allows you to list your NFT for sale on Coinbase NFTs. By clicking the page, you will be prompted to connect your crypto wallet to list your NFT for sale.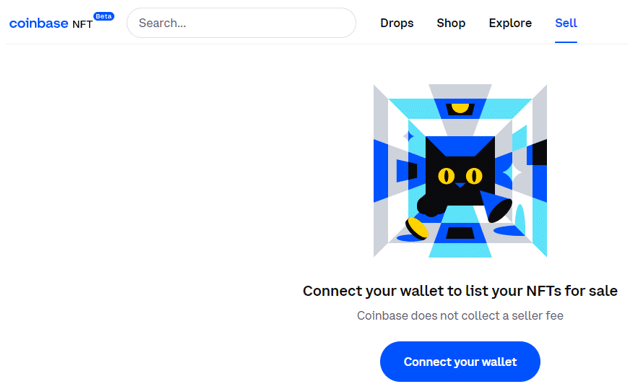 Coinbase NFT supports crypto wallets such as Coinbase wallet, MetaMask, and WalletConnect.
What are the Pros of Coinbase NFT Marketplace?
The following are some of the benefits of using the Coinbase NFTs marketplace:
#1: Reputation
Coinbase is a reputable crypto exchange. This makes it a good NFT marketplace, especially at a time when cases of wash trading, scams, and insider trading are common and it's difficult to know who to trust in the NFT space. Coinbase is listed on the Nasdaq stock exchange.
#2: Social NFT Trading
Coinbase NFT describes itself as a "Web3 social marketplace for NFTs." Its goal is to be a place where NFT collectors can engage each other by commenting, liking, and connecting. A user can follow the accounts of other users and build a community around their work.
#3: Free to Mint NFTs
It is free to mint NFTs on the Coinbase NFT platform. Instead of paying a platform fee, you will only incur gas charges, which is the fee required to run transactions on the blockchain.
How to Invest in Coinbase NFTs
If you desire to invest in Coinbase NFTs, you have to follow some steps. You must have a compatible crypto wallet, which you should connect to the platform.
However, a crypto wallet alone is not enough for you to buy or sell NFTs on Coinbase. The crypto wallet should be funded with ETH. The ETH will enable you to buy and sell Coinbase NFTs, as well as pay for the gas fees.
The good thing is that you can purchase the ETH from the Coinbase crypto exchange. This is good if you like keeping everything on a single platform.
How to Buy Coinbase NFTs
After the above preparation, you will be ready to use Coinbase NFT, but how do you buy Coinbase NFTs? After finding the NFT you like, click it and then the "Buy now" button. If you don't find this button, then the NFT is not on sale.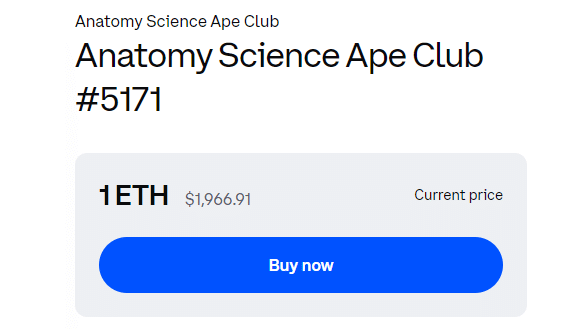 Before you can proceed with the transaction, it is worth noting that Coinbase NFT transactions are irreversible, which is a key feature of the blockchain. However, if you are not satisfied with your NFT even after purchasing it, you can resell it on the Coinbase NFT marketplace. You can only sell the NFT for a fixed price, but you can also start an auction on other NFT marketplaces.
How to Mint NFTs on Coinbase NFT
It is possible to mint your NFTs on Coinbase. After signing into your Coinbase NFT account, click the "Create" button at the top right corner.

Next, click the "Get started" link under "Create your own NFTs."
Coinbase NFT will take you to the "Create new collection" page where you can provide the details of the new NFT. You can give the NFT a name, upload your digital file to be turned into NFT, describe the NFT, and set the royalty percentage. The royalty is the percentage of the selling price that you will be paid whenever the NFT changes hands in the secondary marketplaces.
Jump Start your NFTs Success by getting early on game-changing Projects
Join our Discord Channel Today!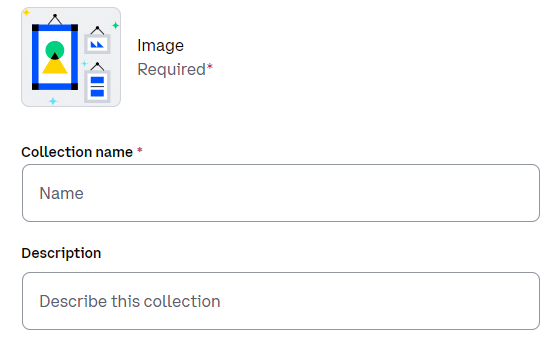 Once done, click the "Continue" button at the bottom.
Next, choose the type of NFT and when to mint it. Click "Create collection."
Coinbase NFT will prompt you to confirm the deployment of your collection through your crypto wallet. The NFT will then be listed for sale on the Coinbase NFT marketplace.
Can you Keep NFT in Coinbase Wallet?
After purchasing an NFT from the Coinbase NFT marketplace, it will go directly to your crypto wallet. This means that the NFT will not be in the hands of Coinbase, but you will have full control over it. The NFT will be stored on the blockchain, but the private keys and the address for the wallet will be for you only. This means that Coinbase NFT is a tool that you can use, but it will not be the NFT owner.
What NFTs can you buy on Coinbase NFT Marketplace?
There are more than 100,000 NFTs listed for sale on the Coinbase NFT marketplace. Coinbase NFT has also made it possible for you to explore NFTs by type. Its Explore tab has categorized the listed NFTs by type, including Photography, sports, Art, etc. You can click the respective tab to find the NFT you are looking for. This feature makes it easy for users to navigate through the marketplace when searching for NFTs to buy. Thus, you can buy NFTs under different categories on the Coinbase NFT marketplace.
Is Coinbase NFT safe to use?
The two major risks of using any NFT marketplace are fraud and attempts to hack into your crypto wallet. Coinbase being an established cryptocurrency exchange with a good reputation scores high when it comes to trust. The platform also verifies accounts using a blue tick to assure that you are not buying from an impostor. Although this is good, it is not an assurance that the NFT you are buying is authentic.
Your NFT will be stored in your crypto wallet, not on Coinbase NFT. This means that you will be responsible for the security of your crypto and NFT. Avoid sharing your crypto wallet keys with anyone, and always watch out for NFT scams, especially phishing scams. In phishing attacks, fraudsters pose as legitimate sites or services to steal your personal information and use it to propagate a scam attack.
NFT Coinbase will never ask you for your private keys or recovery phrase. The platform uses a smart contract scanner to verify NFT collections. It also educates its users about how to stay safe from scams.
Buy and Sell NFTs for a Profit
You can grow your crypto earnings by buying cheap NFTs and selling them for a profit. NFTCrypto.io has made this even easier for you via their NFT trading signal system. They find profitable flips in the NFT market and share the signal with you in real-time. Join NFT Signals now and become a successful NFT trader. The platform users have so far earned a total group profit of over $1 Billion.