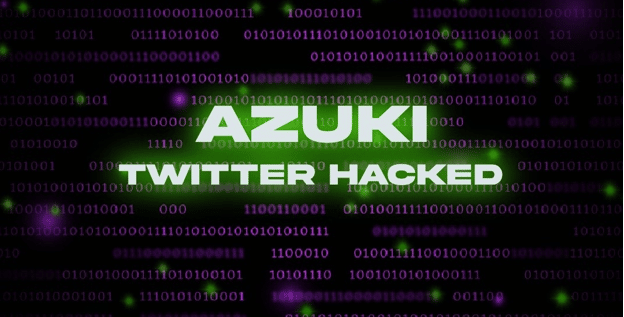 Azuki, one of the most popular NFT (Non-Fungible Token) projects, had its Twitter account hacked on January 27, leading to the loss of USD Coin worth over $750,000. The hackers posted a malicious "wallet drainer link" posing as a virtual land mint.
30 minutes after the malicious links had been tweeted, the hackers had stolen $751,321.80 in USDC from a single wallet. This is according to data obtained from Etherscan.
The data also reveals that the hackers went ahead to steal a further USDC worth $6,752.62 from different wallets holding 11 NFTs and over 3.9 Ether. This means that the hackers managed to steal a total of $758,074.42.
Emily Rose, the community manager for Azuki, confirmed on January 27 via Twitter that the Azuki Twitter account was hacked, warning their followers not to click any links posted on the account.
"AZUKI OFFICIAL TWITTER ACCOUNT IS HACKED.
DO NOT CLICK LINKS FROM OUR ACCOUNT.
PLEASE RETWEET," Rose tweeted.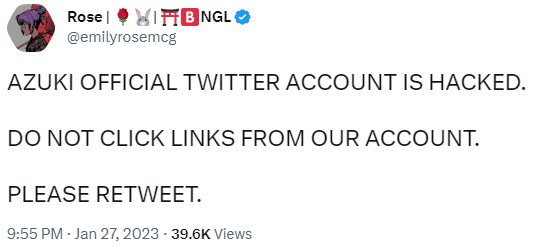 Explaining on a Twitter Space hosted by Wallet Guard on January 27, Dem, the head of community and product manager at Azuki, stated that the hackers managed to "post a wallet drainer link" after gaining access to Azuki's official Twitter account.
Dem went further to urge users to "stay safe and stay suspicious" as their team attempted to regain control over the account.
Several hours later, Azuki announced that it had regained control over its Twitter account. Azuki tweeted:
"1/ The @AzukiOfficial Twitter was compromised today. A series of malicious tweets were posted during the morning of Friday, Jan 27th (Pacific Time).
The team has regained control of the @AzukiOfficial Twitter.
Details below."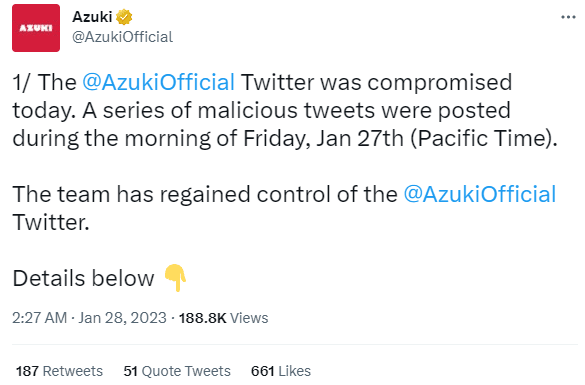 This was confirmed by Rose and Dem by retweeting the announcement.
Liz Yang, the head of growth at Chiru Labs, the company that developed the Azuki NFT project, said that their team is "currently in contact with Twitter and investigating the breach," adding that Azuki "will provide an update once we have more information."
After Azuki regained control of its Twitter account, it advised its followers in a tweet to always "go out on several channels" to confirm announcements. Azuki also advised their followers to always reach out to their "mod team" on Discord whenever in doubt.
Buy and Sell NFTs for a Profit
You can grow your crypto earnings by buying cheap NFTs and selling them for a profit. NFTCrypto.io has made this even easier for you via their NFT trading signal system. They find profitable flips in the NFT market and share the signal with you in real-time. Join NFT Signals now and become a successful NFT trader. The platform users have so far earned a total group profit of over $1 Billion.