Some NFTs (Non-Fungible Tokens) have recorded a rise in their floor prices despite the ongoing crypto bear market. The price floor of Azuki for instance has risen by 4.04% in the last 24 hours, reaching 11.5 ETH.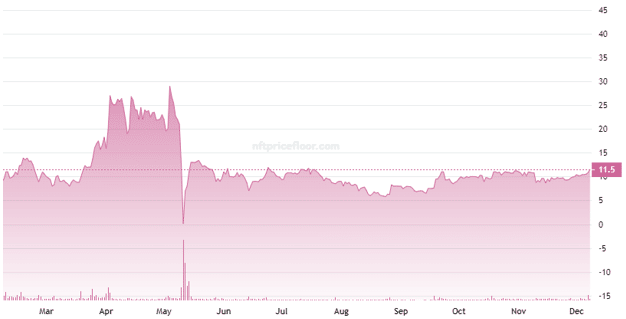 The collection has generated a 24-hour trading volume of 1,343.6 ETH. Azuki has a 7D average sale price of 13.554 ETH and a 7D highest sale price of 135.00 ETH. The NFT project has a 7D lowest sale price of 9.89 ETH and a floor cap of 115,000 ETH.
The Azuki NFT project comprises 10,000 NFTs stored on the Ethereum blockchain. The collection was created by Azuki and launched on 12-1-2021. The NFTs simply represent hand-drawn artworks and they grant their holders access to The Garden.
Renga Black Box, a Metaverse NFT collection created by Renga Inc., has also recorded a significant rise in the price floor. The price floor of the collection has risen by 13.27% in the last 24 hours, reaching 2.76 ETH. The NFT project has a 7D average sale price of 2.5586 ETH and a 7D highest sale price of 4.321 ETH. The 7D lowest sale price for the collection is 2.1883 ETH. Renga Black Box has a maximum supply of 9,850 NFTs and is currently ranked at position #23 in terms of the NFT price floor.
However, the famous Bored Ape Yacht Club (BAYC) and CryptoPunks NFTs have each recorded a drop in their price floors by -1.73% and -1.46% respectively.
The two NFT projects are owned by Yuga Labs. CryptoPunks were originally developed by Larva Labs but Yuga Labs later acquired its IP rights. Currently, the BAYC NFTs have a price floor of 65.35 ETH while the CryptoPunks have a price floor of 63.95 ETH. The BAYC NFT project is ranked #1 in the NFT price floor while the CryptoPunks is ranked #2.
Other notable NFT projects have also defied the crypto bear market and recorded a spike in price floor. Examples include the Mutant Ape Yacht Club (MAYC) whose price floor rose by 1.45%, The Sandbox, a Metaverse project whose price floor has risen by 3.7%, and the Bored Ape Kennel Club (BACK) whose price floor has risen by 5.02%. Doodles' price floor has also risen by 3.89%.
Make Money by Buying and Selling NFTs
Do you know that you can make a profit by buying cheap NFTs and selling them for a profit? It is an easy way of growing your crypto earnings. NFTCrypto.io has made this even easier for you through their NFT trading signal system. They find profitable flips in the NFT market and share the signal with you. Click here to subscribe and start receiving NFT trading signals now. The platform users have so far earned a total group profit of over $270K.