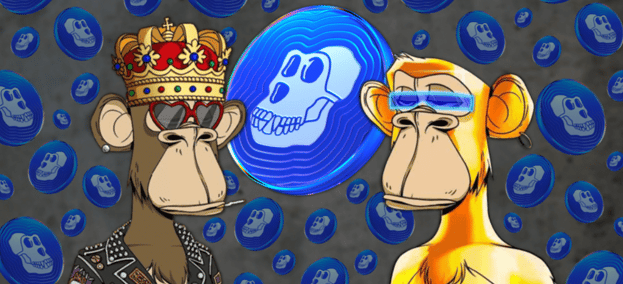 ApeCoin DAO, a community-led governing body that comprises ApeCoin holders, has launched its NFT marketplace.
ApeCoin is a governance and utility token used within the Bored Ape Yacht Club (BAYC) ecosystem and it was launched in March on the Ethereum blockchain.
The new community NFT marketplace was developed by Snag Solutions, a non-fungible token infrastructure company. It will be listing NFTs from the famous Yuga Labs. Some of the notable NFT projects owned by Yuga Labs include the Bored Ape Yacht Club, Meebits, Mutant Ape Yacht Club (MAYC), Otherdeed for Otherside, and others.
According to Zach Heerwagen, the CEO of Snag Solutions, the new NFT marketplace comes with "unique features built specifically for the BAYC and Otherside communities, including ApeCoin staking and NFT metadata integrations."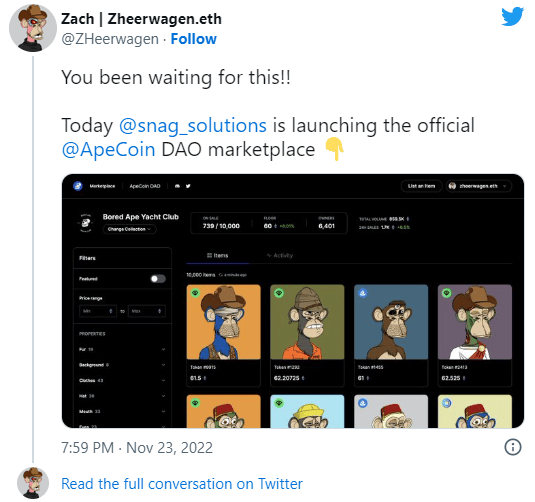 The new platform will charge reduced fees to its users, 0.5% on ETH transactions and 0.25% on ApeCoin transactions. It will hold 0.25% of every sale in a multi-signature wallet to fund future DAO (Decentralized Autonomous Organization) initiatives, to create a benefit loop for the ApeCoin holders.
"Snag exists to support creators by unbundling marketplaces, and we're excited to partner with the ApeCoin community to replace the status quo with a product that respects royalties while heavily reducing fees," Heerwagen wrote in a tweet.
The NFT marketplace also introduces a new fee structure at a time when NFT marketplaces such as LooksRare and Magic Eden have scrapped mandatory creator royalties, piling pressure on competitor NFT marketplaces such as X2Y2 and OpenSea.
Yuga Labs did not comment on the launch of the new NFT marketplace. According to The Block, the ApeCoin NFT marketplace is not directly affiliated with Yuga Labs, but Heerwagen said that "lines of communication were open with Yuga."
Snag Solutions was launched in July. The company previously developed a white-label NFT marketplace for Goblintown creator Truth Labs. The first proposal to develop the ApeCoin NFT marketplace, which was authored by Heerwagen, got support from 88% of the votes cast by the community members.
Make Money with NFTs
Do you want to start making money with NFTs (Non-Fungible Tokens)? NFTCRYPTO.IO has developed the best NFT trading signal system to help you find the best flips in the NFT market. They provide a minimum of 5 signals a week for long and short NFT trading positions. Click here to subscribe and learn from professional crypto and NFT traders and reach handsome returns with controlled risk. The platform users have so far earned a total group profit of over $270K.